E-Learning websites have become widely popular these days. Students are shifting from traditional; methods of learning to E-learning platforms. E-learning platforms have a number of advantages over traditional learning methods. You need not have to travel to distant places in order to take your lessons. Also, you will be able to learn your chapters in a highly organised way and that too by sitting at your own homes. So, if you wish to create an E-Learning website and get into an online learning business, then now is the time to do so.
Here we have given the steps to create an e-Learning website using WordPress as the platform:
Step 1: Buy Domain And WordPress Hosting
The first thing that you need to do if you wish to create a website is to purchase a domain name and a hosting plan. You should be very careful while choosing a domain name because it is your domain name which is going to spread your brand message. Use something that is short and easy to remember. It should also be easy to pronounce. You will also have to purchase a web hosting plan for your website. If you are just a beginner, then it is better to go for a shared hosting plan. Later you can shift to a managed web hosting plan. The managed web hosting plan provides you with unlimited bandwidth. It also has a better security option.
Step 2: WordPress Installation
Next, you will have to install WordPress. The process of installing WordPress is quite easy. All you have to do is make a few clicks with your mouse and WordPress will be installed on your device. In order to install WordPress, you will have to create a database and connect it to your WordPress website.
Step 3: Download WordPress LMS Theme: Edufire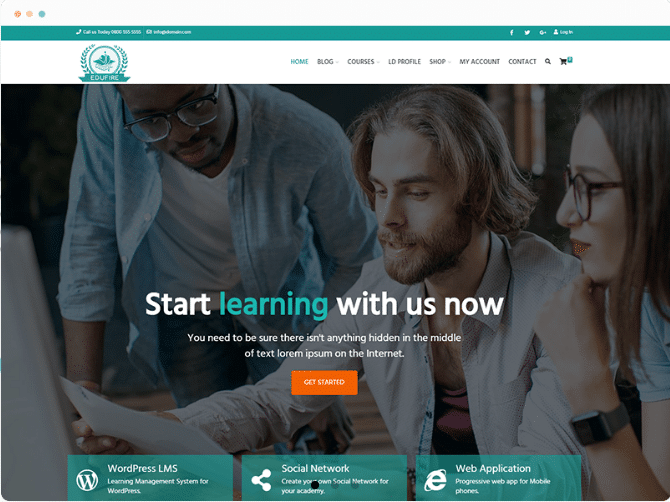 Now you will have to download a WordPress LMS theme. Edufire is one of the best WordPress theme for educational website available to you. It will provide you with all the features that are required to create an excellent E-Learning platform. The theme has a huge range of exciting features. You will be able to design your website easily using the one-click installer. The theme is perfect for schools, colleges, universities and other educational platforms. You will be able to provide online courses for your students by means of your website.
Here we have listed some of the most important features of Edufire
Learndash integrated theme
Edufire comes with LearnDash integration. This allows you to create a dedicated E-Learning platform. You will be able to create and sell your courses easily. You can also create lessons and quizzes for your users. A number of different course layouts are available. You will also be provided with tons of extra widgets which can be added to your website
Distraction-free reading
Edufire offers a distraction-free design which makes it easier for the users to go through the courses. It also provides you with easy course navigation options. The student will be able to navigate through the courses easily. A progress bar can also be displayed on your website to measure the progress made by the students.
Course Grid View Options
Various course grid view options are available using which you will be able to enhance the visibility of the courses. The courses can be organised on the basis of their categories. A number of custom post types are also available which can be assigned to the posts.
Multiple headers and mega menu option
You will be provided with 4 unique header options using which you will be able to showcase your courses and lessons. The header mega menu option is also included. You can create your own mega menu using the mega menu builder.
Unlimited customisation options
You will be able to customize your theme as per your choice. Everything can be customized starting from header to footer. Edufire also has a very powerful backend structure from which all the customizations can be made.
Multiple blog archive layouts
You will be provided with a huge number of blog layouts using which you can create blogs for your website. All these layouts look extremely stunning and will give an out-of-the-box appearance to your website.
Mobile optimised design
The theme runs perfectly across all the devices be it a smartphone or a computer. It adjusts itself according to the size of the screen. The theme is also optimized for speed and performance.
One-click demo installer
The one-click demo installer tool is also included. You will be able to insert all your elements using the one-click importer. All you need to do is drag the elements and drop them to the desired location of your website.
WooCommerce integration 
You will be able to sell your courses using the WooCommerce integration. A number of e-commerce features will be provided like customizable product and shop pages
Stylish inner page layouts
A lot of creative inner pages and layouts are available using which you will be able to develop your complete website within seconds.
Step 4: Download and Set Up LearnDash Plugin
LearnDash is one of the most trusted WordPress LMS plugins. It is used by thousands of universities, companies and educational organisations for selling their online courses. You will be able to handle every aspect of an online course using the LMS plugin. Mentioned below are some of the useful features of LearnDash:
Creative online courses
You can create different types of courses, interactive quizzes and lessons for your students. You can also award certificates to the users at the end of the course. The users will be able to download reports of their progress.
Manage your LMS easily
Everything about your LMS platform can be managed easily. You can also create user groups and assign them to a group leader. The progress made by learners can also be managed easily.
Sell your courses with ease
You will be provided with a number of payment gateways using which you will be able to sell your courses easily. All transactions are carried out in an extremely secure way. 
Step 5: Create and Manage Courses Online
Now that you have installed LearnDash, you are all set to create and manage your online courses. You will be able to create a wide variety of courses for your users and manage them easily from your LMS platform.
These are the steps to create an E-Learning website. Follow these steps carefully and you will be able to create your E-Learning store all by yourself.
Interesting Reads: