Get ready for a Halloween treat like no other! Our spine-tingling Halloween deals on WordPress listing blog is here to help you discover the most wickedly awesome deals on WordPress themes and plugins. Whether you're a web designer, developer, or website owner looking to spookify your online presence, this is the ultimate destination to find top-notch themes and plugins at frighteningly low prices.
Unleash your creative spirit and give your website a ghoulish makeover with our handpicked selection of WordPress themes. From eerie and dark designs to playful and vibrant layouts, you'll find themes that perfectly match your Halloween spirit. Enjoy hair-raising discounts on responsive, customizable themes, packed with features to make your website scream-worthy. Enhance your website's functionality with our bewitching assortment of WordPress plugins. These powerful tools will cast a spell on your site's performance and user experience. Explore plugins that can optimize SEO, improve security, boost e-commerce sales, and more. And the best part? They're all on sale for a limited time.
Halloween WordPress Deals 2023
Brndle – 30% Off on All WordPress Themes
🎃 Trick or Treat? How about a treat! Enjoy a spine-tingling 30% off on all Brndle WordPress themes this Halloween season. Elevate your website's design and performance with top-notch themes at a shocking discount. Don't miss out – this deal is a real treat for your online presence! Hurry, the offer expires soon.
Deal Details:
Flat 30% Off On All WordPress Themes
COUPON CODE: Auto Applied
Deal Starts From 24th October 2023 and ends on 2nd November 2023
Wbcom Designs – Flat 20% Off On All WordPress Themes And Plugins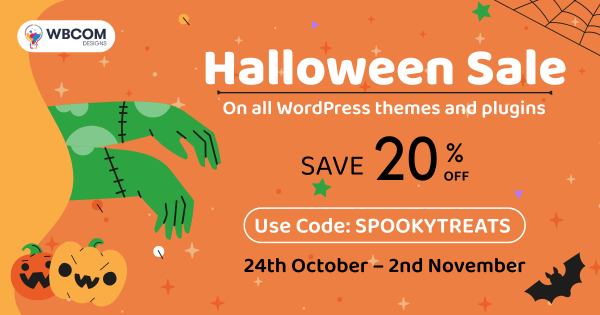 Wbcom Designs is one of the Leading WordPress Themes and Plugins Development Agency. They provide WordPress themes and plugins to build a social media following for your business. Additionally, the team offers development and customization services for LMS, multi-vendor, and social networks based on WordPress.
Deal Details:
Flat 20% Off On All WordPress Themes And Plugins
COUPON CODE: SPOOKYTREATS
Deal Starts From 24th October 2023 and ends on 2nd November 2023
BuddyX Pro – Flat 20% Off On BuddyX Pro Theme
BuddyX Pro Theme is the Fastest WordPress theme for BuddyPress and BuddyBoss Platform to create community, membership, social learning, or social marketplace websites. It has launched its Black Friday sale and Cyber Monday sale offers. Infinite possibilities with BuddyPress integration with LMS, marketplace, event, gamification, and membership WordPress plugins.
Deal Details:
Flat 20% Off On BuddyX Pro Theme
COUPON CODE: SPOOKYTREATS
Deal Starts From 24th October 2023 and ends on 2nd November 2023
Reign Theme – 20% Off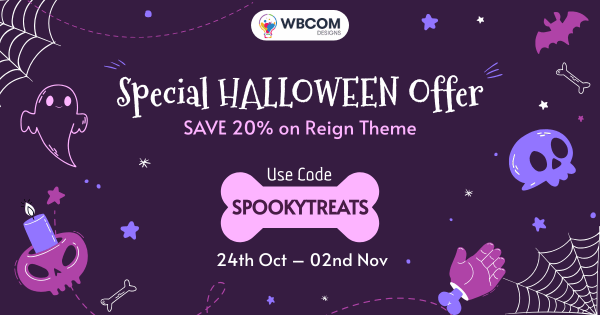 Reign Theme by Wbcom Designs is the ultimate white-label community solution to create a community and sell memberships, products, services, and much more. Get everything you need to create, engage, and monetize your online community with unlimited built-in options for easy customization.
Reign theme protects you from relying on multiple expensive tools to launch your community space and reign over thousands of communities. The unlimited customization options include color scheme, font, and typography, to personalize your community as per your brand.
Deal Details:
Offered Deal: 20% on Reign Theme
Coupon Code: SPOOKYTREATS
Deal Duration: 24th October – 2nd November
CTX Feed Pro – WooCommerce Product Feed Manager
CTX Feed Pro is a potent plugin that can help you list and display your WooCommerce store products on multiple channels, including marketplaces, social media sites, and price comparison engines effortlessly. This WooCommerce product feed plugin supports 130+ marketing channels, including Google Shopping, Facebook, Snapchat, Instagram, Bing Smart Shopping, PriceGrabber, Walmart, Target, etc.
Moreover, you can create complete custom feed files for any existing or new channels. Along with that, the pro version has advanced features such as category mapping, multi-language and currency support, attribute mapping, etc.
The CTX Feed alone boasts an impressive track record with over 70,000+ active installations and an outstanding rating of 500+ five-star reviews, affirming its popularity and effectiveness.
Overall, CTX Feed can help you seamlessly manage your product feeds and boost your store's visibility, reach, and conversions.
🎃 Hurry, the CTX Feed Halloween deal won't last forever! Grab your 30% discount now and start scaring up some serious sales. Your WooCommerce success story awaits, so don't be haunted by missed opportunities – get CTX Feed today!
Discount: Flat 30% OFF
Coupon Code: HW2023
Validity: 20 Oct, 3023 – 01 Nov 2023
Astra: Best WordPress theme for faster websites!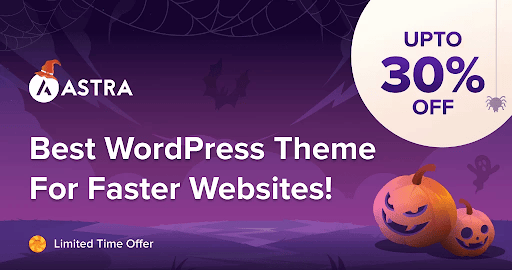 Astra is a lightweight WordPress theme ideal for building any type of website. With over 2.5 million users, Astra is the most popular theme in the WordPress ecosystem. It offers an ever-growing library of pre-built Starter Templates created with your favorite page builders.
Astra Pro comes with addons like custom layouts, mega menus, sticky headers and advanced benefits like priority support.
Discount: Up to 30%
Coupon Code: Auto-applied
Validity: 30 Oct to 1 Nov 2023