Building a community website is not easy. There are thousands of little things which you have to keep in mind while designing the perfect community website. For that, it is very important that you choose one such WordPress theme which will meet all your requirements. Reign theme is one of the best BuddyPress themes available to us. It has a very impressive look and is packed with bundles of features. You will be able to build your dream website without even needing a developer. You will also be able to design a social networking website using Reign theme.
Why should you choose Reign theme?
Reign theme has all the essential tools and features which will allow you to develop different types of community websites. Here we have listed some of the major features of Reign BuddyPress:
#1 Elementor-The drag and drop page builder tool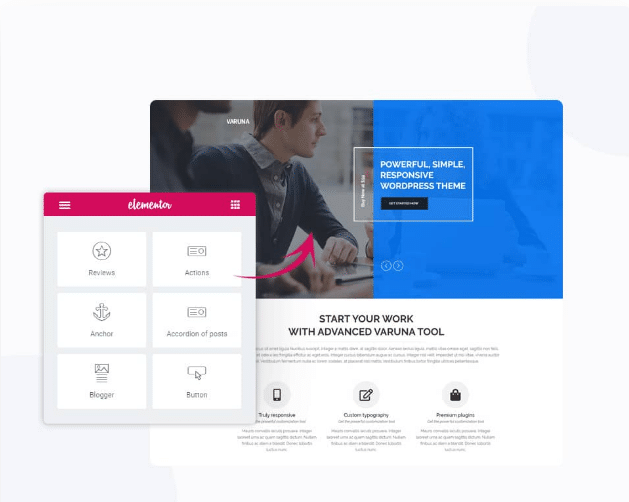 Reign BuddyPress is compatible with the Elementor plugin. This will provide you with a number of features using which you will be able to design your website easily. Elementor is an open-source frontend page builder which is extremely easy to use. You will be provided with a drag and drop tool that will help you to add elements to your webpage quickly and easily. You will be able to design a webpage from the frontend and see the results instantly.
#2 Easy to customize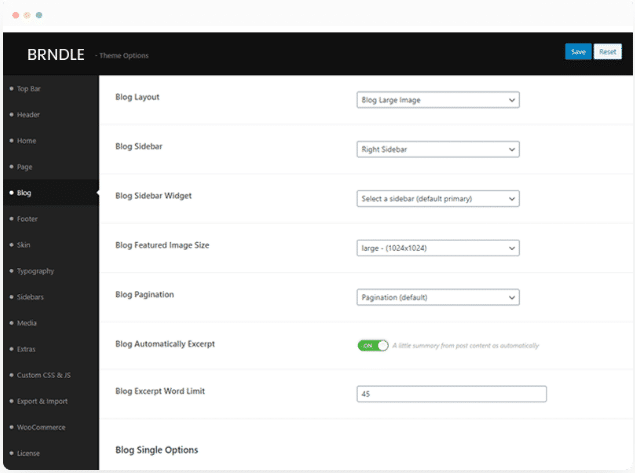 Reign is extremely easy to customize. Using the unlimited customization options, you will be able to design an elegant looking website. You can adjust the font size, colour, spacing and sizes very easily. You will also have complete control over user profiles, social groups, etc. You will be able to change the header and footer settings as well.
#3 Fully responsive theme
Reign is a fully responsive theme. You will be able to view the theme perfectly on all types of screens. It offers better readability and usability to the content. The theme is also very easy to navigate.
#4 Multiple Member & Group Directory Layout
Reign provides you with multiple layouts for group directories and members. Some of the important layouts are:
Group Directory: You will be able to change the group directory layout easily. Different group directories are included in the theme package.
Member directory: You can also change the member directory layout. A huge range of options will be provided to you.
#5 Multiple Members & Group Header Layout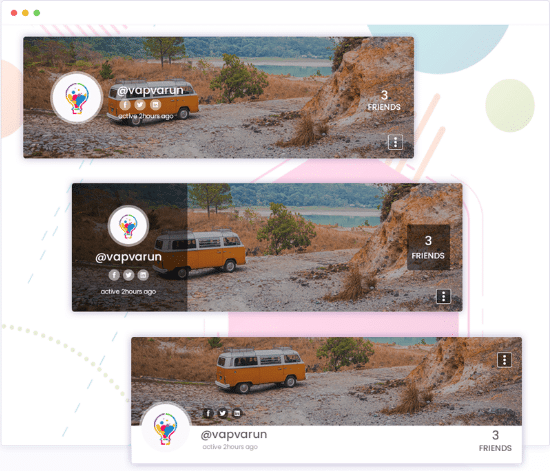 Reign comes with multiple members and group header layouts. Some of these layouts are:
Group Header Layout: You will easily be able to change the header of the groups. 6 different group header layouts are available for you to choose from.
Member Header Layout: You will also be provided with 6 different member header layouts. You will be able to change the header layout of the member profiles. You can even customize the prebuilt layouts as per your choice.
#6 BuddyPress customization options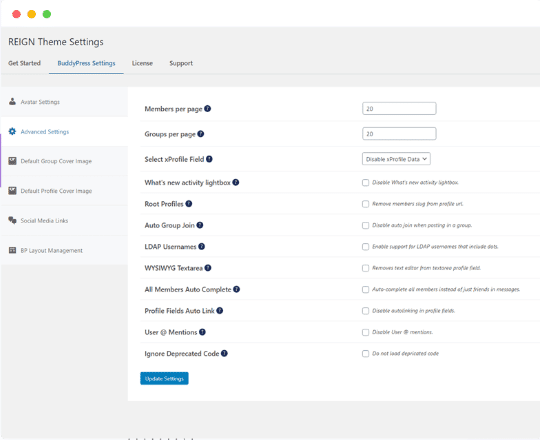 Reign theme comes with a number of useful options to customise the BuddyPress settings. Some of these options include:
Avatar Settings: You will be able to customize the group and user avatar. You can change the size to the desired dimension. You will also be able to change the group and user avatar image.
Advanced Settings: This will allow you to manage the number of members and groups to be displayed on a single page, add or remove members logs from the URL, enable or disable autocomplete option, etc.
Default Group Cover Image: The default group cover image can be changed. Its dimensions can also be altered.
Default Profile Cover Image: You will also be able to change the default profile cover image and adjust its dimensions.
Social Media Link: You will be able to integrate your website to various social media platforms. You will be able to integrate social profile modules on your website. It completely depends on you which social media platforms you would like to integrate
#7 BuddyPress Extra Widgets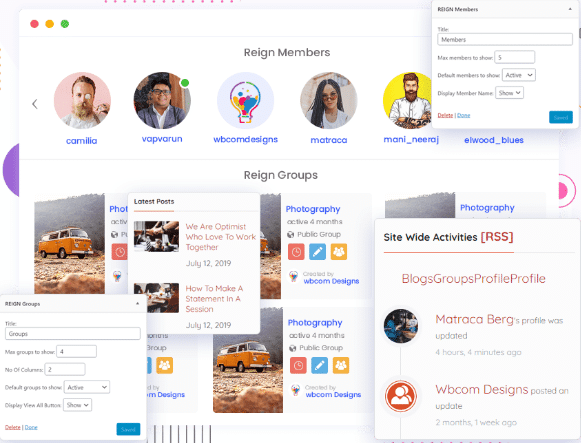 Reign theme also offers you a number of special BuddyPress widgets to make your website user-friendly. You will be provided with a dedicated widget area for member and group, single page member, activity stream, etc. 4 types of widgets are:
REIGN Groups

REIGN Members

REIGN News Widget

REIGN Site-Wide Activity
#8 Stunning Header Layout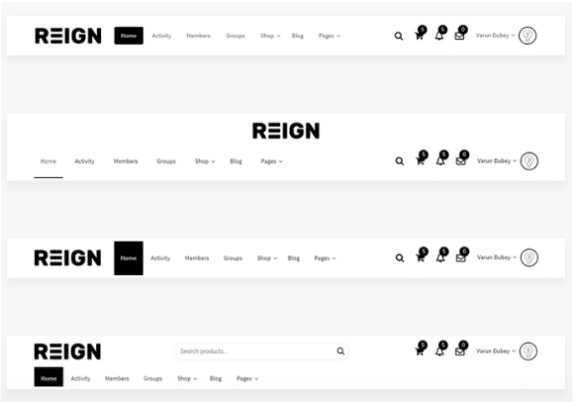 You will be provided with a number of unique header layouts for both groups and member pages. You will have full control over the appearance of your website. They will also help to enhance the look of your community theme.
#9 SEO Optimised Theme
Reign BuddyPress is SEO optimised and it will rank well on all popular search engines. This property of Reign theme will allow you to easily reach the target audience. The theme is compatible with various popular SEO plugins like WordPress SEO, Yoast, etc.
#10 Translation and RTL ready theme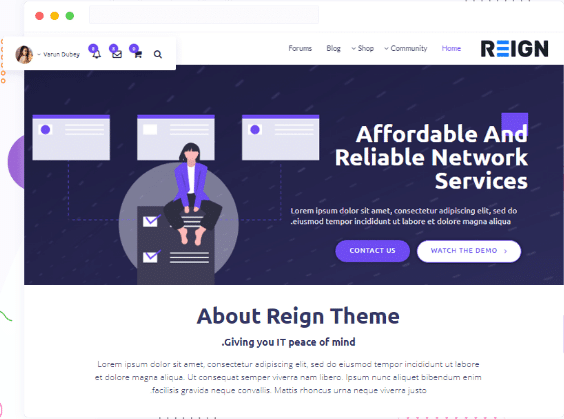 Reign is RTL ready. It will allow you to convert the website into a different language. This will make your users feel more comfortable as they will be able to read through the content of your website in their native language. You will be able to edit all the text files including the translated files.
#11 WooCommerce Compatibility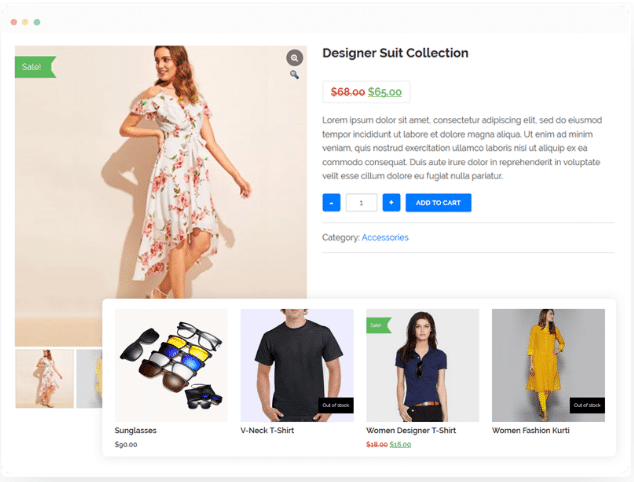 Reign is WooCommerce compatible. This will allow you to set up an eCommerce website. You will be able to sell your products and services online. You will also be provided with a number of shop options like a simple product, left sidebar, full width, etc.
#12 rtMedia Support
The theme has rtMedia support. You will be able to add photos, audio, video, frontend uploads and a lot more. The admin will have complete control over the upload sizes, image privacy and uploaded media type.
#13 Numerous font and awesome icons
You will be provided with over 600 icons. Each of these icons come in three circles. You will be able to use them with or without a circle.
#14 BuddyPress Member/Group Rating
Reign theme has in-built multi-criteria member and group reviews support. The users will be able to add their reviews on your website.
#15 WordPress plugin support
The theme supports a number of useful WordPress plugins like PeepSo, BuddyPress, LearnDash, WooCommerce, WP Job Manager, etc. Reign is also compatible with other powerful WordPress plugins like Easy Digital Downloads, Paid Membership Pro and many more.
Final Thoughts
If you want your website to make a difference, then Reign BuddyPress is the theme for you. It has a stunning design and is also rich in features. So, choose BuddyPress and design the perfect community website for your viewers.
Interesting Reads:
7 Best WordPress Themes For Lawyers and Law Firrms in 2020