WordPress review plugin will allow your visitors to post reviews on your website. This will allow you to understand what your viewers actually want and what are their likes and dislikes. This feature will definitely help to increase the conversion rate of your website which will, in turn, help you to grow your business.
In our article, we have mentioned some of the Best WordPress Review Plugins In 2022. Let us know about each one of them in detail. 
Best WordPress Review Plugins In 2022
#1 WP Review Pro
WP Review Pro is a very popular WordPress review plugin. The plugin support 12 useful snippets which are suitable for various subjects like books, films, and painting. You will be able to customize the options as per the requirement of the user. 16 default design templates will be provided to you.
WP Review Pro comes with unlimited color options. There are 5 options for the rating system which are the star, percentage, thumbs-up, points, and circle. The plugin allows your WordPress website to integrate with Google, Yelp, and Facebook. This will help you to increase your credibility. You will also get 24/7 customer support. 
#2 Customer Reviews for WooCommerce
Customer Reviews for WooCommerce is a free WordPress plugin that is compatible with any WordPress website. You need not require WooCommerce integration in order to work with this tool. However, these two tools work perfectly when they are combined together. They will help your customers to remain engaged with your website for a considerable amount of time.
After your customer buys a product, Customer Reviews will notify the customers to review the quality of the purchase. This will allow you to collect feedback from the newcomers. All the products are listed on a single page. This will increase the chances of your products getting reviewed.
#3 YITH WooCommerce Advanced Review

YITH WooCommerce Advanced Review is an advanced WordPress plugin. This plugin gives your customers complete freedom in posting their reviews. You can add stars and also upload an image of the product.  You can also create your own review type. Once the item has been rated by many viewers and customers, the owner will be able to display the ratings to the new visitors.
The review will be displayed as a widget that will show how many stars your product has received. This is a very good way to increase the sales of the featured products.  YITH WooCommerce Advanced Review has no price tag and there is no premium version available.
#4 Taqyeem
Taqyeem is a top-rated premium review plugin. It has a wide range of features and the price is also quite affordable. Taqyeem is one of the most powerful tools which is available in the market. It will also help to bring your website higher in search engine rank. The plugin has a reliable schema markup implementation.
You will be able to display the visitor's rating on the home page itself. You will also be able to add unlimited criteria for review. Three different reviewing styles are available which are points, percentage, and starts. Taqyeem supports 500 + Google web fonts. Unlimited color and typography options are available.  
#5 WP Product Review Lite
WP Product Review Lite is a free plugin that is packed with all the essential features. Whenever you create a post, the plugin will ask you whether it is a post or a review. All you have to do is install the plugin to your website and it will automatically help you to increase your reviews.
WP Product Review Lite will allow you to change the color of the elements of the webpage. You can even change the color of the rating and the pros and cons list. You can display your latest product review on top. WP Product Review Lite also comes with useful integrations like comparison tables and Amazon. 
#6 Reviewer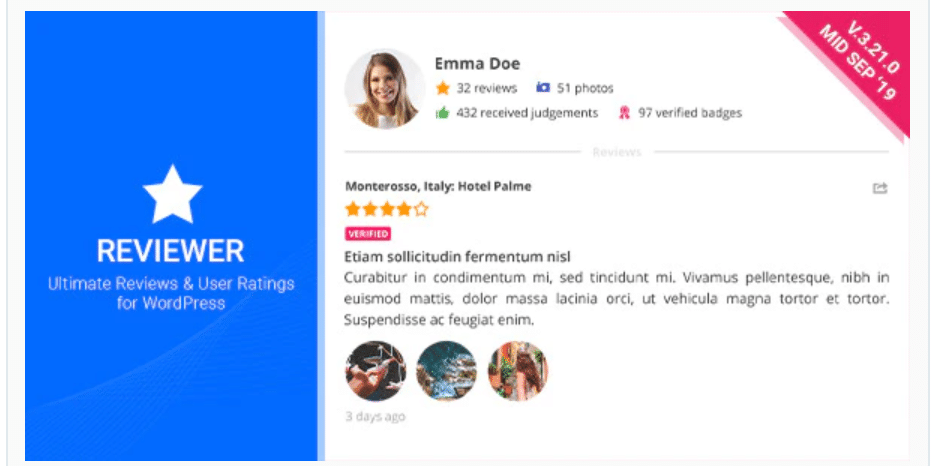 Reviewer is one such WordPress review plugin that allows you to add review blocks and comparison tables to your website. All you have to do is add a title and you are all set to go. You will also be able to add more details like the product price and product summary. Multiple images of the product can also be added.
Once a person has given their review, you will gain access to their email address and username. You can use these data to promote your products. You can also include those ratings on various customizable widgets. The plugin will protect your website from spam.
#7 Schema
Schema is a very powerful WordPress review plugin. Actually, it is not just a review plugin, it is a tool that allows you to make schema markup on your website. You will be able to show different kinds of information on search engines like people, recipes, events, and many more. The plugin has a lot of customization options available.
Schema allows your website to rank well on popular search engines like Google Chrome and Mozilla Firefox.  It has a simple and easy-to-use user interface. You can upload customer review icons on your website. Although this plugin is free, it also has a premium version.
#8 WP Customer Reviews
WP Customer Reviews is another WordPress review plugin. The most interesting feature of this plugin is that it is capable of letting your search engine know whether your page contains user reviews or reviews of your own. The plugin provides you with multiple customization options.
You will have complete freedom to change the design of the review. You can also show admin responses in a different field. WP Customer Reviews is very lightweight and also supports custom themes. The loading speed of your website will not be affected because of this plugin. The plugin also works well with different types of caching plugins.
#9 Ultimate Book Blogger
Ultimate Book Blogger is suitable for a website related to an online bookstore or a book review website. So, if you own a bookstore, then this plugin is perfect for you. It is a very powerful tool and will provide information about a book which includes author details, title, and cover image.
There is a content warning field as well.
Ultimate Book Blogger supports audiobooks. There will be different details to fill in. You will also be able to recommend books from the same author under the review section.  there are a lot of anti-spam measures included which will prevent your website from getting filled with negative reviews.
#10 WP Business Reviews

 WP Business Review is a WordPress plugin that is used to collect business reviews that are already present in Facebook, Google, and Yelp. It will compile all the information and put it on your website. The information can also be put as a widget. If you have a lot of reviews, then they will be laid out in column format. 
You will be able to change the background color depending on the theme you are using. In case there are a lot of negative reviews, the plugin will filter them out before displaying them on your website.  You will also be able to automatically give a discount code to the customers every time you make a purchase.
So, these were our top picks of the Best WordPress Review Plugins In 2022. All these plugins are extremely useful and are packed with essential? Which plugin do you like the most?
Interesting Reads

TOP 6 MULTIPLE AUTHORS WORDPRESS PLUGINS
Best Easy Digital Downloads WordPress Themes in 2022