Event websites are crucial for selling tickets and promoting your events! Get the best WordPress themes to build event websites today.
It's Create an event website for promoting your events and selling tickets online, install these themes
If you have chosen WordPress as your primary platform for promoting your events or selling tickets online then you must have a WordPress theme installed on your site for building event websites. Below are mentioned some quality themes which will help you in creating an event website and will also give you the ability to promote and sell tickets online. People visit several websites but only find those websites interesting which has relative matter showcased in an organized manner. If you wish to launch an event website using the WordPress platform then you must have one of the below-mentioned themes installed on your site.
These themes are built for promoting single or multiple events online and their default homepage offers you an opportunity for highlighting the best features of your conference. Also, your users while scrolling down will find a countdown timer for the big day plus profiles of the key speaker once you install these themes. You can easily display a pricing table for helping visitors to compare several ticketing packages. These themes have Google Maps integration for displaying the location of your event. You can easily start displaying sponsor logos with these themes.
Some of these themes have an interactive agenda module and other features which can be added to your site's homepage. These themes include social media integration allowing visitors to see who else might be attending your event. Wait for no further and click on the mentioned links.
Top WordPress Themes to Build Event Websites in 2022
DreamWed
DreamWed is a WordPress wedding festivity and event planner theme to make visually appealing and responsive sites for wedding and event organizers including photo galleries, wedding blogs, and a lovely online shop. The theme helps in creating a membership and forum website with BuddyPress and BuddyBoss platform support.
BuddySocial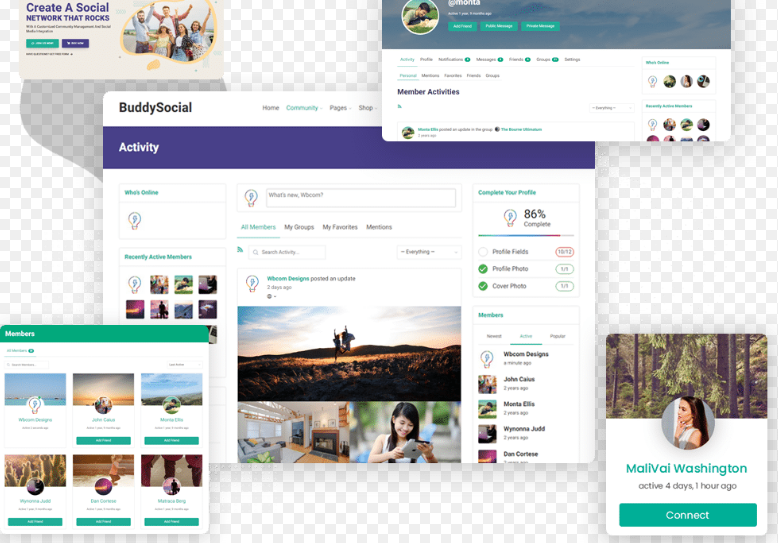 BuddySocial allows the creation of social communities for your sports group, organization, school, and other niche community websites. This BuddyPress theme additionally offers huge support for BuddyPress design pluginYouzer community and client profile WordPress plugin providing a stunning and devoted design to your BuddyPress site.
Get the live demo of BuddySocial 
Varuna
Varuna is a WordPress theme used for creating different websites such as business, blogging, landing pages, creative portfolios, online shops, and many more. Along with this, the theme also provides multiple inner pages, detailed customization settings, elementor page builder support, ability to create limitless header and menu layouts.
 TheGem
This is the theme you need for launching new events websites with WordPress. There are several pre-built website demos that can be accessed plus two others that are best suitable to create event websites. Among them, one demo focuses on building sites for music events, while others have been built to create a site for promoting a business or IT event. This theme can be fully customized and no matter what type of events you are dealing in, you will notice that this theme and these demos can be well adjusted for better suiting of your project.
 Eventum
This theme is the best option to create an events website with WordPress irrespective of the size of your project. Whether it is informal meetups to national, multitrack corporate conferences this theme is built for supporting and promoting your event online and uniquely. Its design and look are quite big and stunning if you wish your event website should make a better first impression, standing out in the competition. This theme is the best choice you got. For helping cater to a broad range of users and events, this theme has 5 inbuilt homepage variations. Every layout has unique styles and designs appealing to different types of users and their visitors.
Fudge 2.0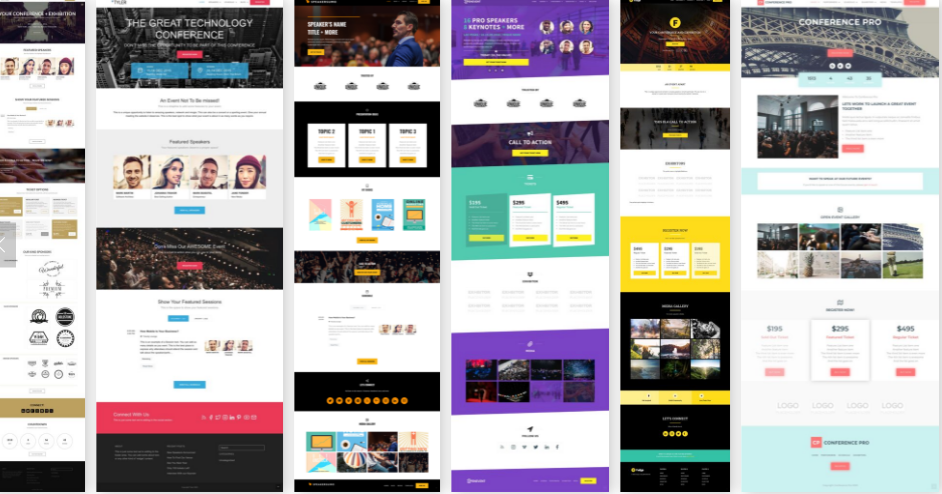 This is an ideal choice for people wanting to promote their events online in an organized way. Developers have successfully picked an advanced but attractive design for this very theme, making it the best for a range of event types. This theme is a pro in creating a powerful visual impact by letting you upload a stunning image for display above the fold on the homepage. This means that people seeking more information about your event, as well as those who have pre-registered should be impressed by what is on offer and what is there at the event, allowing you to select the correct image.
Conference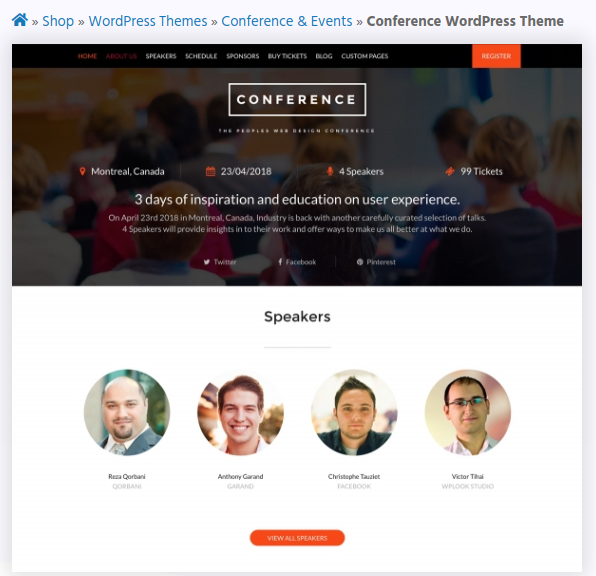 This theme can be installed to promote events online. This theme is developed and launched by WP Look Studio combining a perfect design that includes all the features required for promoting events online. This theme has been built for promoting a single event like a conference, exhibition, and various types of gatherings. Using the perfect homepage design, you can start displaying the essential features of the vent, like location, date, number of speakers, prior to providing more information in more detail while your visitors scroll down the homepage. Every speaker of yours can easily have their unique profile on the site, complete with images and links to their social media profiles.
 Exponent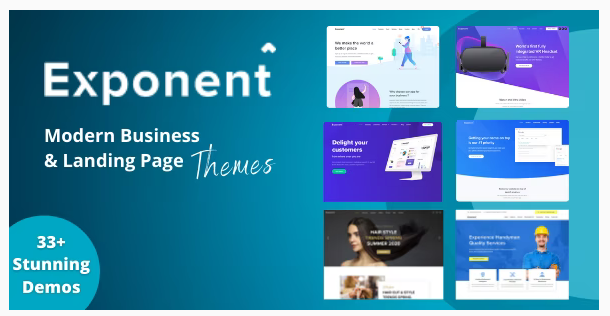 This is the best multipurpose WordPress theme including a stunning events website demo. You can easily import the events and conference demo into your WordPress dashboard for successfully creating your new website. With the demo, you have complete access to a unique homepage design including essential elements that help you in promoting your events or conference. Several sections on this homepage layout have a timer for counting down to launch the event or a date as per your choice, a set of icons to share key information about your event, and a panel to highlight the profiles of your speakers.
WellExpo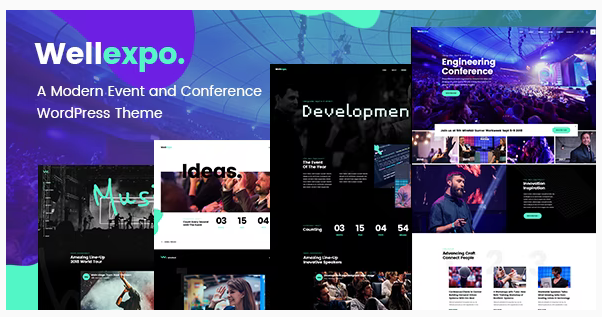 This is the best event and conference theme to create a stunning and advanced website with WordPress. No matter the type of events or conferences you want to build a website for, you will find an effective inbuilt option among the WellExpo demos. It has designs best suitable for tech summits, business forums, and music events, you will get the ability for importing one of the WellExpo inbuilt website demos into your WordPress dashboard and get ready to add the event or conference information. Editing the inbuilt content is possible for ensuring it's better matched with the type of event or conference you are promoting.
Evently
This theme includes 9 homepage demos that help you in building an events website with WordPress. The theme has inbuilt content and templates covering a wide range of events, conferences, summits, meetups, and also festivals. The inbuilt content is perfectly designed according to high standards and you may not find any problem promoting premium events while using this theme. The theme has a demo to create websites for event organizers, so if you deal in this field, this theme will help you in promoting your services online. Every website demo included in this theme makes the best use of the homepage design that is loaded with essential features.
 EvenTalk
This theme is packed with rich features and is an ideal option to create conference and events websites. The theme is highly flexible and is best suitable to promote single events or to create a website promoting multiple events. If you deal in the event line then this theme is the best choice you got. For the better appearance of your website for your project, it includes 10 homepage designs and several multiple page layouts. Apart from stunning designs, this theme has inbuilt demo content including many features ensuring your event and conference website is powerful yet appealing. With these elements, you will notice a countdown timer for building anticipation for the beginning of your event, speaker profiles for promoting the unique attraction of your conference, and wonderfully formatted schedule sections for making it simple for your guests to watch is up and where.
Event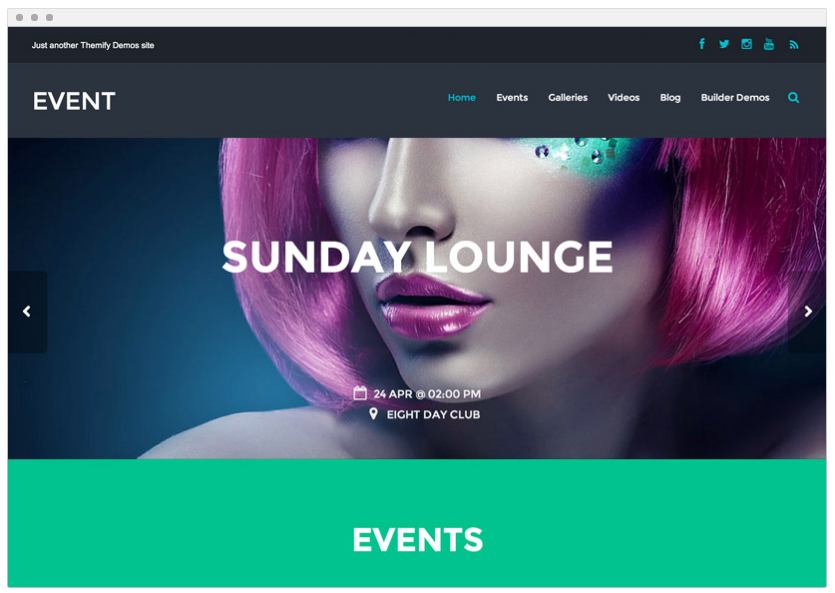 This theme makes the best use of a famous and functional one-page layout design combining it with an appealing, approaching full-width layout. If you want to create a website for your event for standing out in the competition and for developing interest in people who visit the site, then this theme will prove to be beneficial for you. This theme has a drag and drop layout builder giving you access to numerous configuration possibilities. The theme is developed and launched by Themfiy having the best templates for WordPress already present and available. The theme has a stunning and appealing design which is best suitable for music, or various entertainment-related events, on the same hand its customization options make it adaptable for better occasions.
Infinite
This theme is loaded with unique features and is a multipurpose WordPress theme having an inbuilt events website demo. For a better overview of things that this theme is offering then trying its main demo is a perfect place to begin. If you are seeking a readymade solution to create a stunning events website with WordPress then you should try the purpose-built conference and event demo once. This theme is perfectly designed for helping you to promote a single event plus support you, attendees, in the marathon to the important day, and during the event, the very infinite website demo compares better to single focus event WordPress themes.
Now create an events website and promote your events
Now you might have got a clear idea about how useful these themes are in creating events websites for promoting events, scheduling conferences, etc. The above-mentioned themes have better design and layout essential for creating a better first impression on your visitors. These themes are packed with quality features and are also multipurpose WordPress themes. Click on the links and get ready to promote your events online.

Interesting Reads
Do You Stand the Best WordPress Themes for Catering Business? 
It's Red & Sizzling, Welcome Hot WordPress Themes for Business