Youtube is the most popular video website to promote/create content. Also, WordPress is an idle solution for creating any type of website. It doesn't matter that you want a portfolio, online store, business or blogging website. WordPress roots to all of the categories. With a plethora of themes and plugins, you can easily build a website without any coding knowledge.
Furthermore, thanks to the plugins and addons provided in WordPress, allows us to combine them. You can create a video website similar to YouTube or promote your blogs on it. For Instance, there is a rule that says, one should always spend a significant amount of his time and effort on promoting the content. Its where these YouTube Plugins come in handy.
In this article, we have listed some of the best FREE as well as PAID YouTube plugins to add video content in our blog. So let's get started, shall we?
Table Of Contents:
#1 WP Youtube Lyte

WP Youtube Lyte is a Free WordPress plugin which allows you to embed your Youtube videos into WordPress posts. This plugin also gives you to lazy load videos which result in increasing the page performance and download size.
Features:
Shortcodes Support
Multi-Language Support
Lazy Load Videos
Embed multiple videos
Embed Youtube videos or entire Playlists
Maximum Browser Compatibility
#2 WP Youtube Hub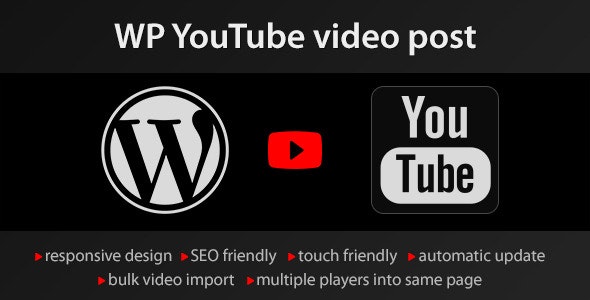 WP Youtube Hub is a Youtube video importer and it automatically creates WordPress posts according to Youtube searches, users or playlists. Moreover, the posts created by the plugin have all the required fields already filled up, additionally, you can edit them further.
Features:
Bulk Video Import
Automatic Scheduled Import
Synchronize Youtube Channel with WordPress
Customize the Content
Author Support
SEO Friendly
Get the Plugin
#3 Flow Flow Social Stream
WordPress Social Stream plugin has 17k+ sales on Envato Market. With this plugin, you can easily embed social feeds and content with WordPress posts in the most elegant way. You can showcase them in Grids or Sliders layout. It supports numerous social media platforms to add their feeds in your posts.
Features:
GDPR Compliant
Seamless API Connection
Easy Content Moderation
Smart Server Caching
Visual Composer Element
Well Documented
#4  Youtube Showcase
Youtube Showcase is an example of a simple yet powerful plugin. The plugin hands to display Youtube Videos in a gallery or grid view. Also, you can use a Youtube video ID to automatically create a Youtube video Page. It displays high-resolution video thumbnails in a responsive layout.
Features:
Easy Installation with Setup Guide
Shortcodes Support
Easy to Use
2 Video Gallery Types
Different video thumbnail ratios
#5 YourChannel: Youtube Channel Free WordPress Plugin
The plugin holds over 10,000+ Active Installations with a 4.5 rating. YourChannel plugin is worth considering because it just needs your Youtube Username or Channel ID and it'll set up your channel on your WordPress. Further, this plugin can display Banner Image, profile picture, uploads, single video, views, etc.
Features:
Easy Visual Builder
7 Video Thumb Styles
RTL Support
Font Icons
Smooth Transitions
Play video in Lightbox or Inline and many more
#6 Youtube Widget Responsive
As the name suggestions, this plugin combines widgets and responsiveness to embed YouTube videos in your WordPress posts beautifully. Along with widget, you have to use very shortcodes to display content in them or to put them with WPBakery Page Builder. Moreover, it supports a large number of languages such as English, Italian, French, Spanish and many more. And it all comes at no cost.
Features:
Enable Privacy Mode
Automatic Subtitle Toggle
Loop Mode
Mute Video on Start Toggle
Hide Youtube Logo
Youtube Button Subscribe
#7 Yottie
Yottie is one of the best and resourceful WordPress YouTube plugin and also it has 4.9 stars rating on the Envato Market. The plugin offers 100+ Adjustable Parameters, 4 colour schemes and 16 Languages. You can select to embed a whole channel or playlist or even a single video without any difficulties.
Features:
Gutenberg Editor Support
GDPR Compliant
Highly Customizable
Google Adsense Support
Shortcodes Support
#8 Essential Grid Gallery WordPress Plugin
Essential Grid Gallery is a premium all-purpose gallery WordPress Plugin which showcases your Youtube videos spectacularly. Along with it, you can build great looking pages or posts by embedding images, audios and videos galleries into it. This plugin allows you to connect to Youtube as well as Instagram, Flickr, Twitter and Vimeo to fetch content.
Features:
Visual Skin Editor
Responsive and Mobile Optimized
Easily Import/Export Skins
Custom Metas for Posts
Adjustable Rows/Columns/Spacings
Boxed, FullWidth, FullScreen Layout
#9 Visual Composer Youtube Channel with Carousel Premium Plugin
This plugin is an add-on for Visual Composer Page Builder, which shows your YouTube videos from the channel or certain playlists. There are 7 impressive styles available with this addon, furthermore, it offers Infinite Scroll, Load More button, or Pagination options for videos. You will get full control over the variety of options customization of the gallery components.
Features:
Fully Responsive
Generate Unlimited Galleries
Multiple Galleries per Page
132 Pre-defined animations
Toggle Social Share icons
No API key required
Fast Customer Support
#10 Youtube Embed Plus Freemium WordPress Plugin
Another FREE YouTube plugin we have in the list is, Youtube Embed Plus Freemium, which is a clean and simple plugin. You can add Youtube videos, playlists as well as live streams or premieres. There is a wide range of customization options available with this plugin allows you to easily add videos in your blog.
Features:
Compatible with Gutenberg
Youtube Premieres
Simultaneous Playback Control
Youtube Plugin Migration
Shortcode Support
iOS Playback Preferences
#11  Video Gallery by YotuWP

Embedding a video in our blog gives a productive boost to us. Video Gallery by YotuWP turns out to be the perfect solution for embedding a video in the blog. You will have two video player choices, Large and Modal/LightBox, further with a shortcode generator that allows you to generate shortcodes to use in Page Builders, Widgets, etc.
Features:
Responsive Video Gallery
Responsive Players
Custom Layout
Compatibility with Page Builders
Pager and Load More Buttons
Shortcode Generator
#12 Youtube Videos To WordPress Posts
Youtube Videos To WordPress Posts allow users to import Youtube videos to their WordPress blogs in the easiest way possible. The plugin also allows you to bulk import your video query videos by users or channels. It is easy to use and offers quick support to its customers.
Features:
Powerful Caching System
Uses YouTube API v3
Schedule/Bulk/Paginate Import
Limit Videos on Each Feed
Filter Videos by Date, Rating, Views, Count, etc.
Easily Integrate Custom Fields
Get the Plugin
#13 ARVE: Advanced Responsive Video Embedder

ARVE Youtube Plugin alone has 50,000+ Active Installations in the WordPress Market. This plugin almost supports everything possible related to embedding videos into blogs. It is a simple and easy plugin to keep in use, which also offers one single button for all providers.  Moreover, it supports almost every video host that supports iframe embedded codes.
Features:
Clean Shortcode Syntax
WYSIWYG Editor Support
Gutenberg Support
SEO Friendly
Responsive embeds with CSS
Video Alignments
Conclusion
Implementing Videos in your WordPress blogs is a great way of promotion. In one way, you are getting viewers from Youtube or other videos platforms, and the other way, your users will tend to spend more time on your blogs due to the explanations and impressions. Therefore, with these plugins, you will fulfill your visitor's need, i.e. Readers or Viewers.
Thanks for Reading!