Let your readers fall in love with your blogs using the best WordPress blogging theme! Let your readers give a reason to visit your site again!
Presenting a fast loading and well optimized WordPress blog and magazine theme for all industry bloggers. Offering you with powerful theme options along with engaging layouts to present your blog in a unique way. Take a look at this WordPress theme that has been designed to add value to your content.
Think of what can attract your audience the most. Our theme offers a plethora of features that act as a magnet for them.
Why Should You Pick Highlights?
Do you know what's the biggest problem for bloggers? It is to present the blogs in a creative way in front of their readers. You write creatively. Hence, you also have to present your blogs creatively.
A feature-rich and well-optimized WordPress blogging theme solves this problem.
Highlights WordPress theme has come up with unique and most demanded features that makes your blog look cool. Let's walk through with them one by one.
✦ Style Your Blog Content With Multiple Blog Layouts
After writing the quality content, bloggers need to present it in a way that looks appealing. Otherwise, they might abandon your site. With our newly launched WordPress Blog and magazine theme, we are offering attractive and engaging blog layouts that improve your blogging efficiency.
Editing blog layouts using WordPress live customizer makes the task easier.
✦ Gutenberg Optimized WordPress Blog Theme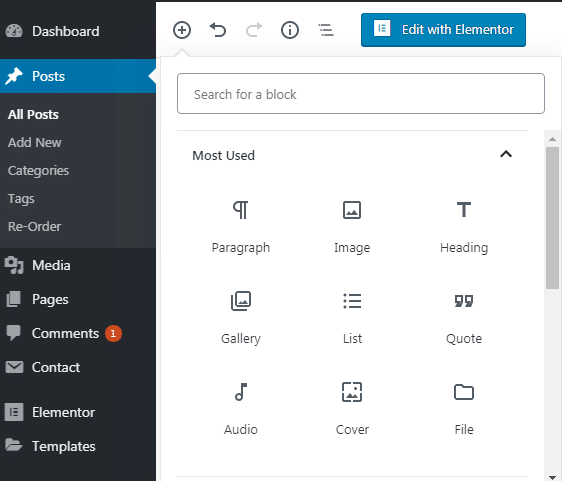 WordPress Gutenberg has come up with an advanced content block that helps to manage content on posts and pages. Highlights are designed and fully compatible with this advanced block-based editor helping you create blogs and manage your pages incredibly fast.
✦ Easy To Configure Theme Options
Even a non-coder can act as an expert with comprehensive theme options like easy to configure and customize, Gutenberg support, and more. Highlights offer easy to use and configure customizing theme options along with the backend database structure. Such options include styling for header & footer, options to customize theme skin, five different blog layouts, and many more super cool features.
Interactive Header Layouts
The header is the first thing that your site visitors first see when they land on your site. Making your header easily navigable and somewhat attractive helps you convert site visitors into quality leads. With Highlights, you can enhance your blog appearance using advanced header layouts designed to give your site a more personal touch. Sticky header, show search on the menu, show dropdown icon, header menu hover effect and more are some cool features that you will get with this WordPress digital magazine theme.
Easily Navigable Footer Layouts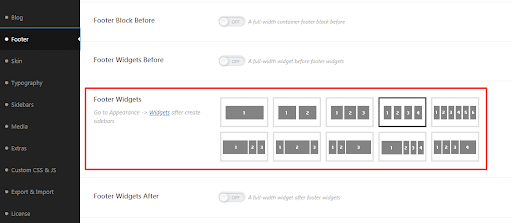 The website footer assists site visitors to get some additional and relevant information and navigation options at the bottom of your website pages. Keeping this fact in mind, we are providing some attractive footer layouts that you can use on your blogging website.
Other footer widgets include enable or disable footer area, footer widgets before and after, add footer block before and after, enable or disable and customize the copyright section and many more features.
Improve Your Site Appearance With Multiple Theme Skin Options
Think about your brand identity and find out what accent suits most of your blogging website. And, give your site a unique appearance with our multiple theme skin options that makes a perfect match of your site with your brand identity.
Theme skin customization options include‒ Default and Accent Color. Moreover, if you want and have some idea in your mind, you can also build your own skin.
Extra Features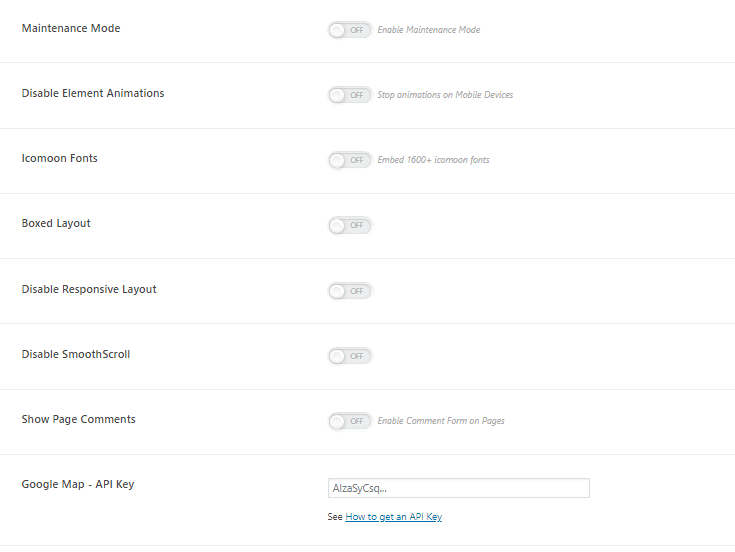 Moreover, you will also play with some extra cool features that come with the Highlights WordPress theme. You can enable/disable various elements on your website like maintenance mode, icomoon fonts, boxed layout, element animations, smooth scroll, page comments, responsive layout. Furthermore, you may also add Google Analytics – Tracking ID and Tracking Script, Google Map – API Key, and Typekit ID for Embed Typekit JS.
✦ Enhance Viewing Experience With Extra Widget Options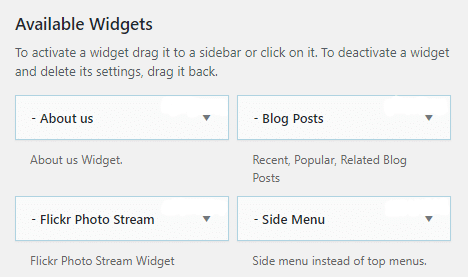 Highlights offer some new and cool widgets that you can display anywhere on your site. You can display them either on the primary sidebar or secondary sidebar, front page top, front page bottom, or front page middle section or at the footer section.
Upload Images From Your Flickr Account
Highlights Theme is equipped with a Flickr Photo Stream widget that makes it easy to upload beautiful and attractive images from your Flickr account. You have to add your Flickr account ID and then start uploading your stream.
Display Bio-On Your Website With About Us Widget
About Us Widget offered by Highlights WordPress blog theme allows you to display a short bio about you on your web pages. It's really a quick way to make your readers know about you instantly.
Help Your Readers Find Your Blogs Quickly With Blog Posts Widget
Highlights offer five unique variations of blog posts widget to display quick links of your blog posts on your site. In this way, you can easily capture your audience's interest by displaying your recent, popular and related blog posts on your site.
Make Your Site More Navigable With Side Menu Widget
Your site menu bar helps your site visitors find important links quickly on your website. We are offering Side Menu Widget with our Highlights WordPress Theme that allows you to display your menu options on the sidebar instead of showcasing on the top of your site.
✦ Create Your Own Custom Widgets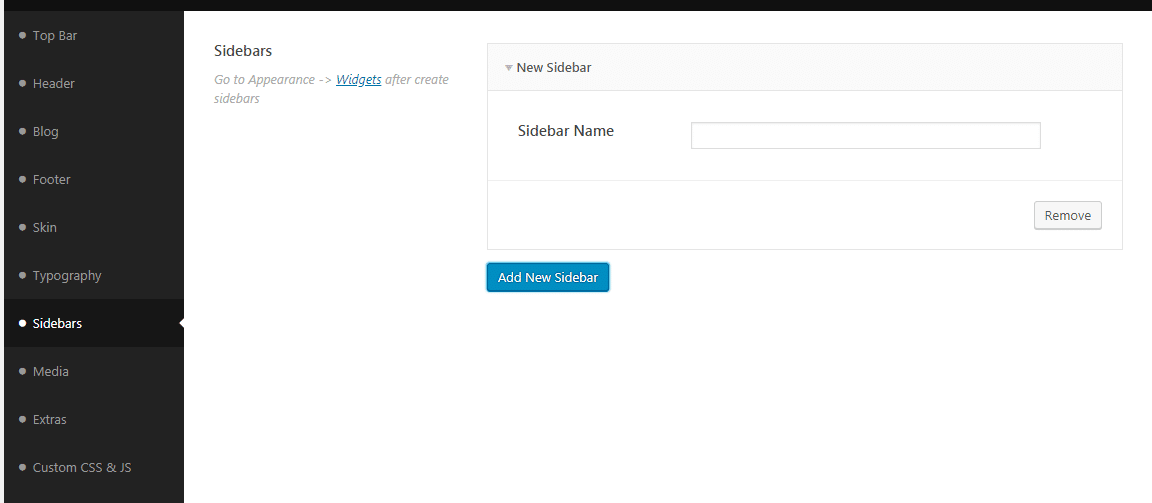 Instead of using the default widget options on, you can create your own one through customized sidebar widget area. Under theme panel options, you have to create a new sidebar. Next, in the widgets tab, you can insert the widgets you would like to add. Then, showcase your customized sidebar widgets by selecting the Page left sidebar and Page Right Sidebar templates.
✦ More Styling Features To Customize Your Web Pages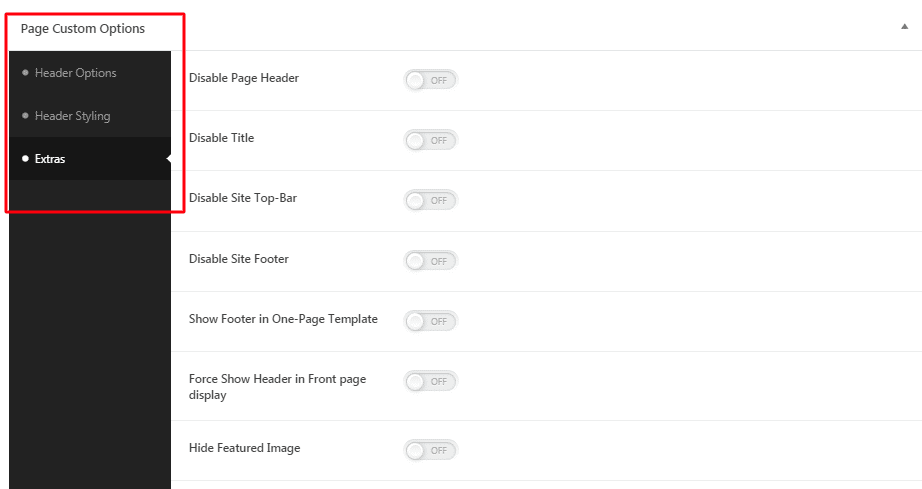 Just writing your blog is not enough until you present it in a more appealing way in front of your audience. With this advanced WordPress blogging theme, you will get many options to customize your web pages.
Page custom options that we are offering with Highlights WordPress theme include:
Header options
Header Styling
Extras
Start customizing and styling your web pages now.
✦ Display Sharper Images
High-quality images appeal most. Make sure your readers are also experiencing such quality when they are viewing your blog posts. Our advanced and retina ready WordPress blog, news and magazine WordPress theme ensures your readers have an exceptional viewing experience on your site irrespective of what device they are using.
✦ Multi-Language Support
Translation and multiple languages support to let your readers read your blogs in their native language. Hence, it helps you to target a huge audience at the global level through WPML & qTranslate compatibility.
✦ Smooth Integration With Various Powerful Plugins
Integration with extraordinary WordPress plugins like Elementor, WooCommerce, and more allow you to add superb functionality to your simple blogging site.
✦ One-Click Installation Support
Importing content within one click makes it easy to design your site within less time.
Highlights help you easily import all the demo content using one-click installation support. Even a non-coder can manage blogging website without any difficulty.
✦ Multiple Web Page Templates For Your Different Needs
Want a full-width page design or a blank one with no header and footer? Or a template with the left or right sidebar? Or anything else? Highlights come with multiple page templates that you can use to design your web page content.
Choose among different page templates that suit your business needs.
Highlight Your Blogging Skills Beautifully With New WordPress Blog, News & Magazine Theme
After all,
The first impression creates the last impression!
The saying also applies to you too. Always remember, a good communication starts when the audience gets engaged with the content. And, the audience engages when the visuals on your site look attractive and compelling. So, pick out the best WordPress blog theme that makes your brand personality strong and effective.
But, it might confuse you which theme should you pick that fits in your niche blog.
Highlights theme offers you with some cool features that help you make your site visitors stick to your site. And, that's the key you should look while searching for a best WordPress blog theme.
Get started with Highlights and leave an impeccable impression on your readers!
See Highlights Theme In Action