You must be all busy with fresh bakes straight from the oven to decorating your house with Santa Claus figures, ferns, stockings, candles, ornaments, reindeers, and much more. But, hold own. If you own an eCommerce store and have already pushed festive emails and given away a genuine amount of offers and deals to your customers. Have you amped up our website to look festive as your customers come back to our store? Get started with amazing Free WordPress Christmas greeting plugins which will rock your website for better output.
Hurray! Santa is on his way!
The countdown has begun and there is no time to wait.
Top Free WordPress Christmas Greeting Plugins to Brighten Up your Website
#Hurray 1: Simple Snow
Other than depicting golden balls, ferns, or Santa figures. You have got pure white snow which will slowly drizzle over your web page or enable the feature as you wish. With this Free WordPress Christmas greeting plugin, you can make your website look beautiful with Christmas snow animation. Additionally, one can also customize the size (1360+ icons) and shape of the snow and even include a customizable name. By customizing the speed of the fall, you can also alter the color of the snowflakes, and style.
#Hurray 2: Christmas Ball on Branch
Being easy to install this plugin is based to deck up your website with animated or static-looking festive images jutting from any corner of your wp screen. So, if you want to add Christmas lights to the website to brighten up your site and sales. This is the best plugin for your then. This comes with a variety of features. This comes with 10 animated and static images (inbuilt in the plugin), four corner positions available. Of course, being the Free WordPress Christmas greeting plugin you can customize transparency. Further, it defines the size, defines margins from sides, and top-bottom frames. With one year of upgrade and support, this gives away a beautiful look to your eCommerce site.
#Hurray 3: Boost
As the name goes, Boost helps to make our site look bright and elated with the festive round the corner. Getting counted among the Free WordPress Christmas greeting plugin, Boost helps to create holiday themes that will embrace email addresses and thereby amplify your business. If you are thinking to embellish your email campaign with last-minute changes. This is what you need quickly.
#Hurray 4: Christmas

Counting upon the festivity of the season, let immerse the mood into your website as well. Being the best Christmas greeting plugin, with this you can push on our seasonal greetings and messages to your visitors. Also extends them with overwhelming customizable options which let the users feel warm and cozy for the season. Being counted among the free Christmas plugins extends promotions for your store, for your products and services, coupons that will embrace the excitement of gifting gift cards for the purpose. Further, you can personalize it according to your business. What more? As it is easy to install, it also has a user-friendly dashboard that incorporates automatic schedule time and date. So, deck up your website by enabling snowflakes, floating Santa effects, gift box animation.
#Hurray 5: Xmas Lights

How many of you like fairy lights and sparkle lights? Well, this stands the same. With Xmas lights plugins you can welcome your visitors with a simple string of colorful Christmas lights which will look fancy yet fantastic at the same time. Being counted among the Free WordPress Christmas greeting plugin, this works great with updated Wordpres versions and themes. This plugin is super easy to install and doesn't affect the speed of your site anyhow.
#Hurray 6: Weather Effect: Christmas Santa Snow Falling

Are you playful with the Christmas essential at home? So, let's get the things ready for your website too, and encourage more traffic during the festivity. As Santa roams and swirls with his gifts all across the world. So, it's time for your website to look the same with more zeal and festive colors. Being a WordPress plugin, weather effect plugins come with the advancement of all the Christmas articles on your website with a managed look. This includes snow, candy, stars, sleigh, snowman, Christmas bell, valentine hearts, and rose, New Year Balloons, and more.
This plugin enables all the other seasons which you can use all through the year. This initiates Spring, Summers, Autumn, Winters, Rain, Halloween, Valentines Day, and more.
#Hurray 7: Holiday Message
If you like the concept of pop-up and want to surprise your online visitors with a festive pop-up, then here it is. Holiday Message pop up is a WordPress plugin that comes with holiday graphics. According to your placement decision, you can enable the plugin for its festive effects. This comes with a number of holiday graphics, add a message, and or countdown. You may also change the color, position, and encourage snowfall effects to elate your visitors.
#Hurray 8: Christmas Card with Many Effects
It's always a pleasing gesture to give away cards to whom you love, care and show affection. So, this time or your online audience who are waiting for your offers and deals through innovative means. Announce your deals and offers through Christmas cards. As the card is made in HTML 5, you can check the animation over your phone and tablet. This also allows modification of text, several animations, and parallax. You can also amp up with beautiful sound.
Additionally, it is a high-definition Christmas card that incorporates Google fonts, and a lot more variety. It also includes layers of art through PSD that initiates usage of the brand's logo, png and jpeg, and more.
#Hurray 9: Christmas Countdown Widget
As you are planning to show offers and deals on your site, it would be better that you enable countdown to create a push to avail the deal in no time. Here, with Christmas Countdown Widget you can show days, hours left before the offer/deal goes out. By enabling the feature, you can also get enumerable designs, sizes, animations, and backgrounds. Further, you are entitled to get various sizes, background colors, pictures, or animation.
#Hurray 10: Xmas Advent Calendar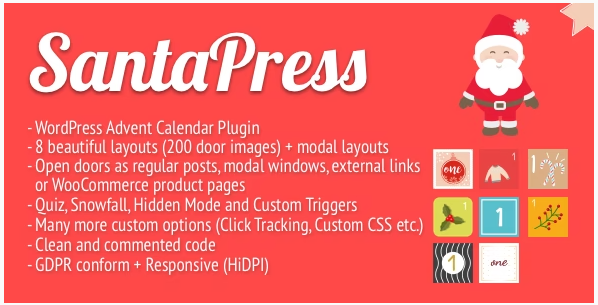 Wanna surprise your online visitors every day? This WordPress Advent Calendar plugin makes it easy for you to make every day special for our visitors with Santa features and related gifts by him. This comes with a WordPress Christmas theme which includes customization options for snowfalls, hidden modes, and more.
This helps you with 8 beautiful layouts with 25 door images with each. You just need to set the number of days for your calendar which you decide to give away. This can be 25-24 doors or any other number of doors as you wish.
Ho Ho Ho! The Clock is Ticking!
Well, as you now know how you can add Christmas lights to the website. Why do you need to wait? For what? It's almost mid-December and Santa is on his way. In the above article, you have got crisp information on Free WordPress Christmas greeting plugins that would help you amp up your site as you get ready to greet Christmas father in your house.
It's time to greet your customers with the same zeal and festivity as you are waiting for things to happen from the New Year.
So, Ho Ho Ho… Get, Set Go!