Do you wish to highlight your entire content above your website? Then, you should employ these WordPress Mega Menu Plugins for designing attractive, customized menus for your site. A WordPress mega menu plugin will quickly integrate directly with the WordPress menu management system rendering it easy to get started but strong enough to design highly customize and creative mega menu setups. 
You can conveniently manage the styling and look of your menu by selecting from various layouts, backgrounds, colors, and more through the click of a button. You can fast build mega menus from your pages, custom links, posts, or any content. These WordPress plugins also can insert background images to mega as well as sub-menu. 
Try out these Mega Menu Plugins For WordPress and select your preferred WordPress mega menu plugin from the undermentioned list.
# 1 WP Mega Menu Pro – Responsive Mega Menu Plugin For WordPress
WP Mega Menu Pro is a premium WordPress mega menu plugin that allows you to design different mega menus for your WordPress website. It contains 14 splendidly designed templates for corresponding your mega menu with the general design of your website. Furthermore, you can design your custom mega menu with the aid of visual mega menu builder plugin and exhibit them as flyout and megamenu type having the orientation as horizontal and vertical types.
It is an intensely configurable WP mega menu plugin that includes different customizable mega menu items. The plugin contains 5 inbuilt menu icons together with 650+ Font Awesome icons, 400+ IcoMoon, 160+ Dash Icons, 120+ Genericons, and 40+ Line icons. Further, you can style up your mega menu with the limitless custom menu item that accompanies the plugin.
Key Features Of WP Mega Menu Pro
14 Free Attractively Colored Skins for Mega Menu/Fly Out

Horizontal and Vertical Mega Menu Orientation

14 Pre Available Custom Widgets with Separate Layouts

Drag and Drop Widgetized Mega Menu

Option to Make your Mega Menu Sticky

Custom Theme having 100+ Customization Options

Custom Styling Settings

Custom Settings Feature Options
# 2 UberMenu – WordPress Mega Menu Plugin

UberMenu comprises a user-friendly Mega Menu WordPress Plugin for designing unrestricted mega menus and flyout menus on your WordPress website. It is a simple to use plugin that enables you to design mega menus for any custom post types, pages, posts or any contents quickly with any coding skills. Furthermore, the plugin is directly incorporated WordPress 3 Menu Management System for correct management of all the menu you built. 
It is a wholly configurable WP plugin that is equipped with various colors, dropdown CSS3 transition effects, trigger options for your vertical and horizontal menu. Moreover, you can bring the preview of the entire configuration you made prior to publishing and including the menu on your WordPress website.
Key  Features Of UberMenu
Mega or Flyout Submenus

Responsive Layouts

Touch Enabled

Wholly Configurable Menu

Dropdown CSS3 Transition

Tabbed Submenus

Dynamic Items

Advanced Contents

Advanced Submenu Layouts
# 3 Hero Menu – Responsive WordPress Mega Menu Plugin
Hero Menu is an ultimate WordPress simple navigation plugin for upgrading the default menu into the mega menu within some minutes. It contains separate editable features like fonts, colors, layouts, animations and plenty for the customization of your default WP menu and makes it appear completely unique to your visitors.
Moreover, you can also employ this plugin for designing an eyebrow menu. Eyebrow menu is an extra slender navigation above the current navigation. Additionally, the plugin also offers you the capacity to entrust the user role for showing your mega menu on your WordPress website.
Main Features
Responsive Menu Builder

Endless Possibility

Drag and Drop Menu Builder

60 Color Presets to Pick From

Layout Options

Custom Content

Sub Menu Supported

Live Preview Download/Purchase

Pre Existing Social Icons
# 4 Noo Menu – WordPress Mega Menu Plugin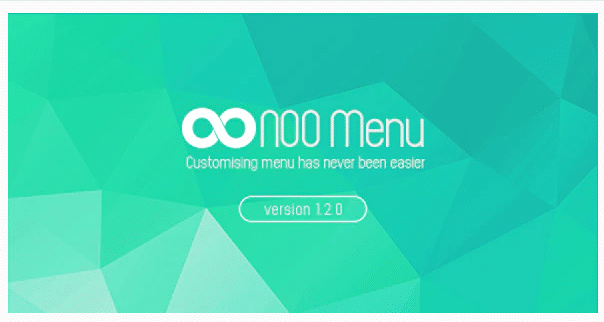 Noo menu is a novel Mega Menu plugins for your WordPress website that allows you to customize nearly every menu elements of the default WP menu. It contains a splendidly  interactive and intuitive admin interface for simple configuration of your navigation menus existing on your website.
It is a hugely configurable WP plugin that includes varieties of customizable fields. You can customize whole of these according to your preferences and exhibit stunning vertical or horizontal mega menu on your website. Moreover, the plugin also contains the real-time backend preview option to carry the preview of the menu built before inserting it to your WordPress website.
Main Features
12 column grid

Vertical and Horizontal Orientation

100% Responsive and Mobile Ready

Super Intuitive and Interactive User Interface

Varieties of Menu Contents

Real-Time Preview on the Backend

Ultra Customizable

Mega Menu Toolbox
# 5 QuadMenu – Themes Developer Mega Menu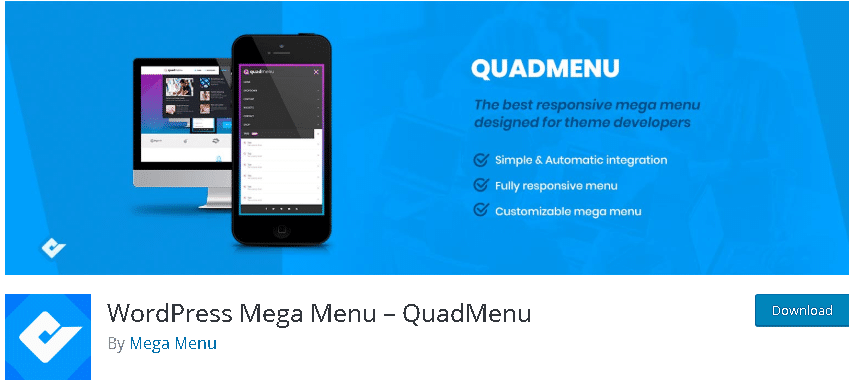 QuadMenu is a responsive WordPress Menu Builder Plugin built for designing wonderful mega menus for your WordPress website. It includes a drag and drop interfaces dashboard that permits you to design and customize the menus without any programming knowledge.
It is a plain yet strong WordPress plugin that contains unrestricted menu templates for designing vertical and horizontal mega menu on your WordPress website. Additionally, the plugin also includes a sticky menu option to stick the menu while scrolling down.
Key Features
Designed extending the regular WordPress menu system

Incorporated with Drag and Drop Builder

Backs different menu locations

Show WordPress Widgets in your menu

Vertical and Horizontal layouts

Limitless Menu Themes

Sticky Menu on Scroll

Float Dropdown Menus Options
# 6 Mammoth Submenu For WPBakery Page Builder
Simple to use Mega Menu addon for WPBakery, previously termed as Visual Composer. Adds the possibility of utilizing WPBakery Page Builder for building Mega Sub Menus for your current WP menu. The plugin has contained VC templates for your fast start.
Main Features
Responsive and Mobile

Animation Types and Preloaders

25+ Example Skins

Content sources: custom post, post, woo, pages, gallery

Boxed, Whole width, Full Screen

Custom Content and Widgets

Youtube, images, vimeo

Adjustable rows/space/columns
# 7 Slick Menu – Responsive WordPress Vertical Menu

Slick menu WordPress plugin will enable you to design limitless multi-level push menus or content sidebars with lavish content and animation effects. The easy to use live customizer allows you to easily customize each part of your site with unrestricted options and styles, and you can view the modifications in the instant preview. You can easily implement the YouTube background videos to any level or the site body. It also contains differently animated hamburgers, and you can customize the size, position, and colors with the live preview. Other features include multi-level supported, responsive design, Google fonts, content filters, custom triggers, smooth scroll, Javascript API, 3D animations, 45 separate menu animations, etc.
# 8 Superfly Responsive Menu Plugin
Superfly WordPress plugin will enable you to create various types of the menu for your site like vertical push, icon toolbar, static navigation, sliding or fullscreen menu. It is a user-interactive plugin function on desktop as well as mobiles and can also be employed as visible navigation also. You can rapidly display or hide the menu on desktops, mobiles and can also display menu on certain pages and for logged in users. It also permits you to style your menu by including images, chapters, separators, second-row text and you can modify the font and color settings, background image and also your logo.
Features:
Trigger settings

Responsive layout

Multiple menu sources

Rich elements

Different menu modes

Styling menu

Content areas

Menu sections

Displaying control

Icon Library

Behaviour options

Rich menu button settings

Multi-level menu support

Cosy admin panel

Google fonts

Enhanced mobile support

Label fixed to content
# 9 8Degree Fly Menu – Responsive Off-Canvas Menu Plugin For WordPress
8degree fly menu WordPress plugin will permit you to insert an off canvas menu style to your site and you can also include various extra elements to the default menu items like a pseudo grouping header, menu icons, menu taglines and a long description. It is completely integrated with the WordPress menu, and you can conveniently divide the menu into 3 sections i.e. body, header and footer. You can easily conceal the menu on default pages, specific pages, and archive pages. It also permits you to set the menu position i.e. top, right, left and bottom.
Main Features:
Unlimited fly menus

Smooth scroll

4 layouts & 9 templates

Menu icon animation

Many flyouts each page

Customizable template

Custom CSS option

5 notification label templates

Conceal menu item name option

Content blur option

Toggle button option

Push sub menu or drop submenu

Utilize a menu or content

Custom icons support

Translation ready

Build menu quickly
# 10 Groovy Mega Menu – Responsive Mega Menu Plugin For WordPress
Groovy is an extremely customizable menu plugin with splendid automatic integration capacities that afford you the power to design fantastic menus incredibly fast. Select  the style you love from the online library of presets and customize it. This plugin is compliant with all stellar page builders, widgets, and plugins. Being wholly responsive and retina ready, your menu will appear superb on every screen type and size.
You can grab your users' interest with appealing menu designs, comprising a designated mobile menu. The horizontal menu layouts have many options, like variety for logo positions. Designing a classic mega menu that spreads over 8 columns is very simple. This plugin has a total grid system that includes individual layout controls. You can modify the colors, styles, backgrounds, and fonts whenever you wish. Inserting elements, like widgets, shortcodes, and raw HTML in your menus is extremely simple.
Groovy is accompanied with the WPBakery, which makes it simple to edit the elements of the menu employing a drag & drop interface. You can style your menus in the backend as well as frontend modes. Over 200 options are present for customizing your menu into the awesome one that your website demands.
# 11 Main Mega Menu – WordPress Menu Plugin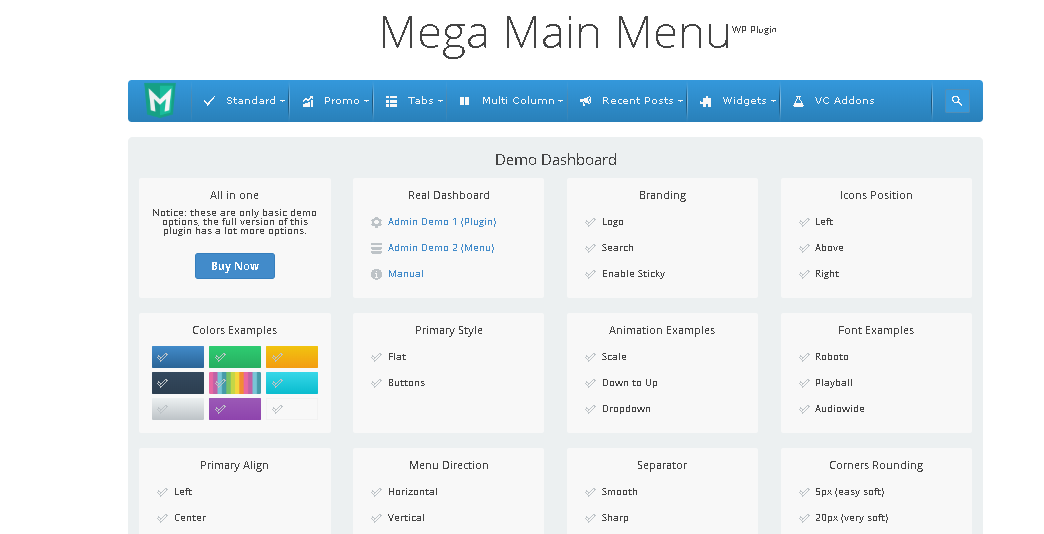 Main Mega Menu is an astounding Mega Menu Plugins For WordPress that allows you to customize your default menu in a gracious manner. This plugin helps you to add various icons, awesome dropdown, logo and search on your WordPress Menu. These entire compatibilities will render your menu striking and will offer a super user experience to your audiences.
The plugin includes limitless color variation of selecting the unique color of the menu elements. Moreover, the plugin presents you with 10+ customization dropdown for positioning text, menu links, widgets, images and shortcodes as the drop-down menu contents.
Key Features:
Awesome Capabilities

Totally Responsive

Unlimited Colors

10+ Dropdowns Combinations

600+ Google Fonts

WPML compliant

1600+ Vector Icons

Cross Browser Compatible
# 12 LMM
Liquida Mega Menu constitutes an extensive modern Mega Menu plugins for WordPress. The plugin is a splendid option for both general users and developers, and if you are a theme developer, you obtain a simple option to integrate the plugin smoothly with your latest design.
This mega menu plugin imparts high flexibility and aids you build a modern menu according to your needs. You receive a few placement options, vertical and horizontal layouts for your menu, besides a sticky menu on the scroll.
You can incorporate any widget in the menu section, you have alternatives to employ Google fonts, and promote Font Awesome icons. If you utilize this plugin in an online shopping site you can combine WooCommerce or Easy Digital Downloads shopping cart on the menu.
# 13 MDF Mega Menu

An extremely attractive and simple to use menu plugin for WordPress. This plugin depends on the Twitter Bootstrap and is highly flexible to ensure that you can set the menu as per your needs.
You can customize the menu by employing a friendly interface that primarily depends on WordPress's native editor. You possess the option to build  a mega menu with separate widths to make it ideally fit into your site.
You possess the option to include separate content types on your menu based on your website type. And you can employ animations for your mega menu, you have 20 separate options present to pick from.
# 14 WP Floating Menu Pro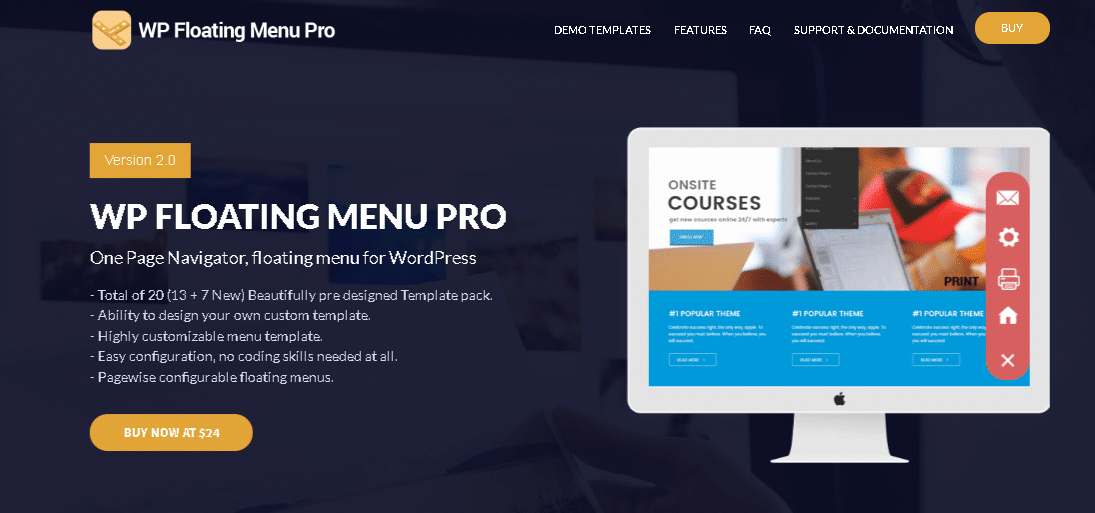 WP Floating Menu is a robust modern menu plugin for WordPress that presents you a terrific flexible menu option. If you wish to design a single-page menu for your one page site, this is the menu plugin you require. This plugin provides you 7 separate menu positions with 15 distinct pre-built menu templates to pick from.
Moreover, it arrives with simple and sturdy customization possibilities, you possess custom layout design options, and different possibilities to increase the grandeur of your menu.
This plugi allows you to design a nice-looking sticky navigation menu that will make it super simple for your users to access your content and your site will appear modern and beautiful. You can build an unrestricted number of menus with this plugin.
# 15 AP Mega Menu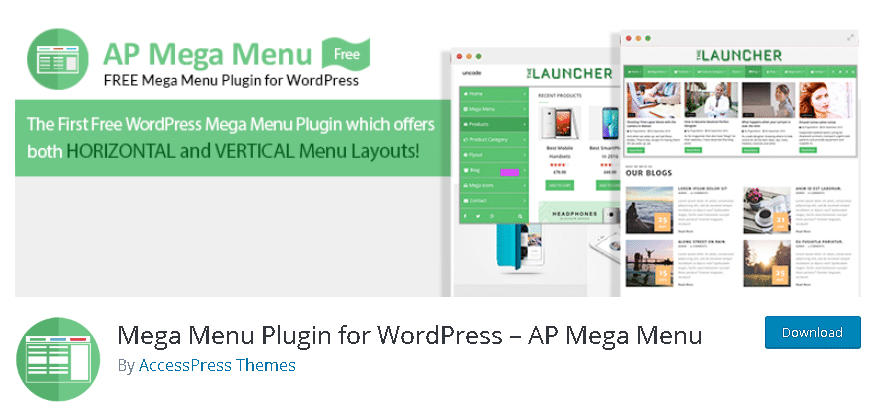 Employing AP Mega Menu, you can insert different widgets column wise, configure them and build a terrific horizontal and vertical mega menu. It backs Flyout submenu styles, wherein you can build a mega menu easily by drag and drop.
Features That Renders AP Mega Menu Plugin An Excellent Choice:
Backs Flyout or Mega Menu sub-menu styles

Widgetized Mega Menus with Visual Builder Drag and Drop Position Method

Mega Menu/Flyout 8 Pre Existing Skins or Custom Template Designs

Slide or Fade transitions

Horizontal Mega Menu position features like Full-width, Left Edge, Center, Right-edge

Free AP Mega Menu Contact Info Widget Included

Language Translation Ready

Menu  Icon Settings having 300+ FontAwesome, 100+Dashicons and 160+ Genericon present
# 16 Side Menu
Side Menu enables your design vertical slideout menu buttons. You can guide users wherever you wish by adding your links. You can also display modal windows on click to offer users additional content and functionality.
Features:
Select color for buttons

Unrestricted amount of menus

Customize the style of the menu buttons

Inbuilt user links: Register, LogIn, LogOut, Lostpassword

Customize the style of the menu buttons

Display menu based on language (permits creating multi-language)

Align menu: Center, Top, Bottom
# 17 WP Mega Menu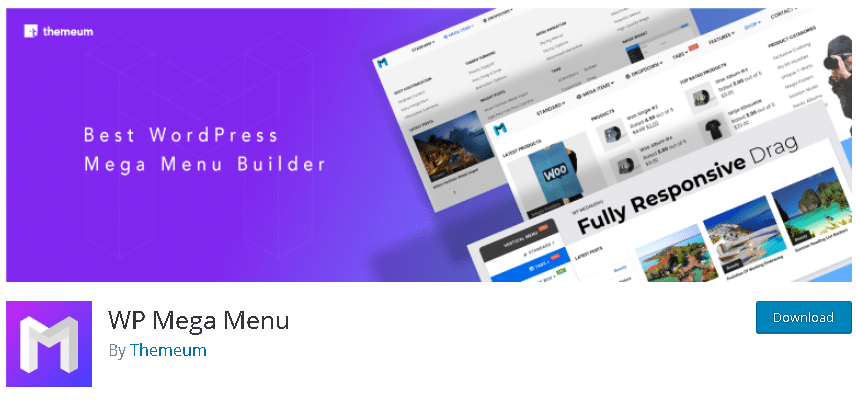 WP Mega Menu comprises a Free responsive mega menu builder plugin for WordPress. You can design striking mega menus containing widgets, badges, images, links, tabs, besides more. WP Mega Menu comprises a radical drag-and-drop menu builder. Inserting rows, relocating the menu items, and customizing columns can be performed seamlessly with it. WP Mega Menu allows you to show eye-catching icons and buttons with menu items. The plugin has the capacity to enhance your sales enormously by displaying products straight on the site's menu bar.
Key Features:
Widgets in menu items

Drag and drop responsive menu builder

Multiple menu themes

Insert social icons, logo, and search bar to menus

Export/import menu themes

Menu labelling/badge, ex: new, hot, etc. 

Mobile menu support

Font Awesome and Dashicons icon backing

Menu background image

Google Fonts

Limitless colors

Unlimited options
Creating menus with WP Mega Menu is totally fun. Design a menu theme, customize the menu theme, activate the menu location, and employ it to a menu. There are plenty of customization options to frame your imagination.
# 18 Flexible Mega Menu

Flexible Mega Menu is an extremely responsive WordPress mega menu plugin. It presents over 300 ready to employ styling options to afford your website a fresh look. The plugin is splendid for designing sticky headers on your website. The headers will adhere to the top while you are scrolling down your website.
Main Features:
Menu styles and items settings editors, built employing the latest WordPress features

Setup the content and styling of any navigation menu, like widgets navigation menus

Compliant with WordPress Customizer

Translation ready

Multi-menu support

Cross-browser 
# 19 Morph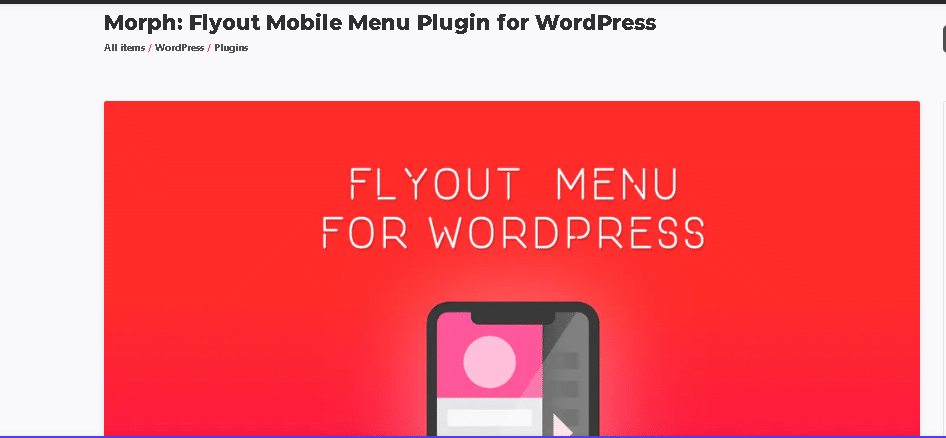 Morph is a greatly customizable WordPress mega menu plugin. It is also intensely responsive as it works smoothly with mobile, desktop, and tablets. Morph is highly user-friendly. The plugin offers you complete control of the entire elements of your website's menus.
Features:
Multi-level accordion menu and widgets

Extremely customizable

70+ customizable settings fabulously clean, wonderfully animated design

Morph utilizes the inbuilt WordPress menu builder and customization tools, rendering the plugin lightweight and permits you to employ tools already known to you

Select from many menu button styles and animations

Slide in the menu from either right or left side

Insert a label to the menu button
Conclusion
These plugins are picked based on its functionality, usability, and a hefty number of sales. A professional website without a simple navigation is unfinished as they perform a key role in offering the positive user experience on your WordPress website.
There are still numerous options present but discovering the right one is extremely difficult. So, the aforesaid list of the finest Mega Menu Plugins For WordPress will certainly curtail your search and will allow you to locate the ideal mega menu for your WordPress website.
Interesting Reads: