When you are not backing up your WordPress site frequently, you are constantly at risk of ruining all your data. And if anything happens to your website like being hacked or inadvertently deleting something you shouldn't you will not simply lose your entire data but also the whole time you have invested in designing your website. Whether your website is business-oriented or a personal blog, you should spare a few minutes to safeguard your digital asset.
Though you always possess the option of manually backing up your site or employing your web hosting company to accomplish it for you, utilizing a backup plugin will make your life much simpler and frequent backups of your site not just offer you peace of mind but also aid you return back to the earlier state in case you break anything.
Though there are numerous WordPress plugins out there, the majority of them don't provide much functionality or simply provide partial backups of your website. The following lists the major premium offerings designed for businesses or people who require additional safety and functionality along with some free backup plugins which you may begin using straight away.
The BackupBuddy plugin offers a premium solution, with ticketed support, syncing and plugin updates. The plugin backs up your whole WordPress site, including widgets, plugins, posts and the database. It's all consolidated into one tab in the WordPress dashboard, with options to migrate, scan, restore and schedule.
Pros
You obtain access to the iThemes community having free Stash space, ten free sync sites besides ticketed support
Instantly scans and mends common issues with your database
Visualizes what occupies the most room on your site with the interactive site directory map
Performs a whole site backup
Restore files through ImportBuddy, and get email notifications when a backup is finished
Plans automated backups that store in off-site locations
Cons
Refunds are not allowed if you don't like the plugin
The pricing is on the higher side
It does not operate if you've shifted or altered the name of your wp-content folder
The plugin doesn't back multi-site
The Duplicator plugin does more than simply backup your site. If you're desirous of copying, cloning or transferring a whole WordPress website, this will perform the trick also. We want this one for developers who would wish to bring a production site down to a local machine, as the transfer is so seamless.
Pros
Select from storage options such as Dropbox, Amazon, Google Drive, and FTP
Custom search and restore is wonderful for when you have plenty of backups
Get email alerts when a backup has been done
This is among the finest backup plugins for backing bigger sites
Multi-site is supported
Cons
You don't receive any customer support with the free edition
The free version is hugely lightweight (with the sole features being database table filters, backups, directory filters, and a migration wizard)
Both the free as well as premium versions need some technical knowledge, so this one isn't suggested for beginners
Best Free WordPress Cache Plugin
The Back WPup plugin has an affordable price, together with a quite powerful free version to begin with. The process is quite easy with the scheduling of automated backups that can then get hosted on different platforms.
Pros
You get a list of complete installed plugins for viewing how they impact your system
Backup to places such as Microsoft Azure, FTP, Dropbox, S3 besides others
You receive multi-site support
This is a whole site backup with email reports
A built-in assistant is present for scheduling your backups
Cons
A feature doesn't exist to restore a backup
They plainly state that you won't obtain much support with the free version
The load on the server can occasionally be too much
The Google Drive backup only arrives in the paid version
If something goes awry, troubleshooting is extremely technical
Also Read:  Top WordPress Coupon Plugins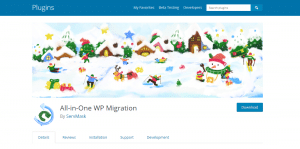 Building a backup, and reinstating it, seems like a technical job. However, with All-in-One WP Migration, you can do tasks without any doubts. Easy navigation facilitates improved user experience. The plugin offers options to Export, Import, and Find & Replace the database content.
Pros
Compliant with tablets and mobiles
Contains an exclusive Find and Replace feature to do operations on your WordPress database
Compliant with the majority of the PHP hosting providers
Cons
Multisite usage is also offered with the Premium version
You require to buy a premium version to shift the database to the cloud services
Over 1 million active WordPress users endow their trust upon the Updraft WordPress Backup Plugin. Stop data loss on account of server crash or hacking by backing it up with this wonderful plugin. You can back up the files in cloud services such as Rackspace Cloud, Google Drive, Dropbox, and onwards.
Pros
Use up less memory during usage
Automatic backups employing scheduled backup service is present
Cons
To access critical functions like Migration and Cloning, encrypting database, multisite support, etc are present with the paid version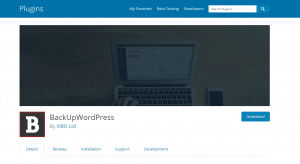 If you desire premium features in a free backup plugin, you should opt for BackUpWordPress. It allows you to set up different schedules for backing up WordPress content. Build and download the backup in a zipped format. It is compliant with Linux as well as Windows servers.
Pros
The plugin is present in various languages like German, French, Serbian, Chinese, etc
Since it uses minimal resources, works fluently in a shared hosting environment
Cons
Open-source which is prone to modifications and malware injection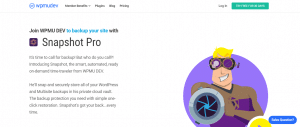 Maintain your WordPress content sound and secure with the user-friendly backup plugin, Snapshot Pro. Plan timely backups for the complete database, or leave out some files according to your requirement. The purchaser is entitled to get 10 GB of WPMU DEV cloud storage with the purchase.
Pros
Commendable 24×7 support
You possess the option of buying WPMU DEV subscription to access the products and services, including Snapshot Pro, of the developers
Cons
Buy Snapshot Pro by WPMU DEV
Snapshot Pro is absent in exclusiveness. Most of the features are present with free WordPress backup plugins
Seeking a power-loaded WordPress backup plugin? You can put your bet on WordPress Backup And Migrate Plugin – BackupGuard plugin. Achieve all the important tasks like migration, restore, back up, import, export, etc with complete perfection.
Pros
It offers most of the premium features in the free version
It shows the real-time status of the backup process in progress
Cons
A few users may experience the interface slightly confusing
Strangely, storing the backup in cloud servers is present only with the premium edition
Specific plugins don't make it to the limelight despite being a suitable contender. WP Database Backup is among those WordPress backup plugins. Install this plugin to use important functions concerning backup and reinstate the WordPress database.
Pros
Offers many features in the free version, like Sorting and Automatic Backups
May be configured easily without going into the technicalities
Cons
Comparatively a new plugin as compared to different well-entrenched players
WP Migrate DB understands the need for managing a database. For this reason, the processes of migration, backup, and restoration have been addressed with detailed stress. The plugin allows the user to download the backup in the form of an SQL file. It can manage serialized data immaculately.
Pros
Frequently updated and relishes superb user ratings
It is a perfect plugin for developers as well as the non-technical bloggers
Cons
The free edition offers limited functions
Novice bloggers may encounter difficulty in grasping the operation of this plugin
VaultPress has been present for quite a long duration. The seamless operation and targeted approach appear to interest the WordPress users. It achieves the job of backing up your data, in a safe environment, with total perfection.
Pros
Feature of Security Scanning is an additional advantage
Contains the much-wanted real-time backup feature
Cons
Whereas different plugins offer additional features, VaultPress is simply concerned with security and back up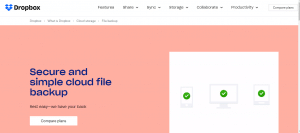 Securing your data on cloud storage is advised since this reduces the danger of loss of data. Backup & Restore Dropbox supports this idea and so, it furnishes export, import, data backup, and migration services on Dropbox. You can even save the backup data at local storage.
Pros
The option of building WPAdm account for effective management of all the backups
All enhanced features present free of cost
Cons
It backs just Dropbox cloud services
Restricted functionality in the matter of database backup
Conclusion
Those were the picks for the finest WordPress backup plugins compared. You can discover a bit of all things, free and premium options. Perform some exploring yourself, and check out separate ones, experience how they appear for you. Backup is crucial, insurance against calamities, and you would be recommended to install a backup plugin for your site.