Generally, we have seen that almost all WordPress free and paid themes develop and launched with Image Slider. As image slider is a necessary part of any theme moreover trendy slider makes the website more catchy, helps to highlight content parts and other images part of webs pages. WordPress themes provide support for different WordPress slider plugins.
WordPress platform is famous for the type of business website as it's just because of the proper presentation of images and contents. With the help of an image slider, you can display your blogs, news, also other texts in a better way. Image slider should be properly set up while it is the first impression of any website through which the users will attract. We all know, WordPress themes offer basic image sliders in their package, sometimes it doesn't have a full feature, which meets our needs.
In this article, we will discuss the trending image slider plugin which is the best used for our WordPress website. A lot of options are available in the market but we'll discuss here some of the best premium image slider plugins.
Let's review it in detail.
Most Popular WordPress Slider Plugins
1. Smart Slider 3
Smart Slider 3 is a wonderful WordPress plugin. It has a bulk library of around 180+ customizable templates and you can create a slider that perfectly matches your website. It has also a free version that offers SEO optimized slider and dynamic post option.
Pro version is perfectly flawless and comes with a drag and drop option which makes your slider more attractive and innovation no coding skills required. It has a unique layer option through which you can create a more customized slider.
Features:
Dynamic Content generator
Enable notification and enjoy any new updates
Image optimization improves the website loading speed
Responsive with all the devices
New customization option of arrow, bullets, and tab
Text Animation
2. Revolution Slider

Slider Revolution is the best-selling WordPress slider plugin, it comes with a powerful tool i.e. drag and drop option which makes the slider more innovative and handy, you can easily create and customize the slider in your WordPress website.
It is completely responsive and compatible with all required devices either desktop, notebook, laptop. With Revolution slider, you can create image sliders and carousels, featured posts sliders, social media feeds, media galleries, hero blocks and front pages, and more. For the creation of an impressive slider no need to have knowledge of coding.
Features:
If you want to create a slider, hero image, carousel, and video, then the Revolution slider is the best option as it All in one solution
Free object Library
Free Add-ons
3D Parallax effect
Front Page Designer: You can create a slider without any coding knowledge required.
Drag and Drop visual editor make it easy to use.
Full responsive plugin and compatible with all gadgets
True Multimedia Content
Tons of navigation styles are available for arrows, bullets, and tabs.
Completely secure plugin
Performance optimization.
3. LayerSlider
LayerSlider is also one of the most popular WordPress slider plugins used for the multipurpose platform. With LayerSlider 6 you can create a slider, image gallery, even a complete web page with outstanding effects. Similar to Revolution Slider you can create sliders by using the drag and drop option, You need to spend some time to understand the building interface of this Plugin. It is the ultimate solution to create a personal, professional slider, slideshow, and animated content slider.
Features:
New animation engine with stunning effect
Focused on user experience and usability
It updates are available regularly
Pull content from posts and pages
100% Responsive slider and perfectly fir for all the device
SEO Optimized and compatible for all the browser
Provide great support to the customer
4.RoyalSlider – WP Slider Plugin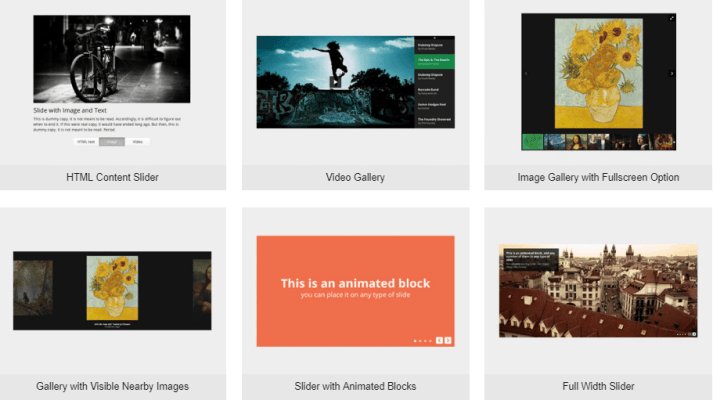 Royalslider holds one of the best-selling WordPress image sliders, which is completely responsive and supports creating a custom slideshow.
It has an all standard feature that you will require to create a slider for the website but it ought limited customization and animation effect option amongst other popular plugin like Layer Slider and Revolution Slider. Royal Slider is focused on its performance, approachability, and providing the best user experience for any device.
Features
Touch swipe navigation support
Super easy and fast administration
Easily integrate your Flickr and Instagram photo in your WordPress Slider
Compatible with Youtube and Vimeo to create more trending slider
Completely Responsive Slider and can be re-edit dynamically
Memory Management-Remove unwanted or unused sliders
Perfectly SEO optimized
You can add multiple sliders on a single page with different skin
Smart autoplay start on the first action and stop on hover
Vertical or horizontal thumbnails, bullets, or tabs for navigation.
5. Master Slider
The master slider is a premium awesome plugin with complete touch navigation, cross-compatible, animated content slider, images, video, WordPress post, now it is available for WordPress jQuery. It has an inbuilt 90+ ready-to-use slider, you just need to replace and placeholder image and content and customize it as the way you want. Create your slider with the help of the Drag and Drop option, which makes it completely responsive and compatible with all devices.
Features:
Drag and Drop: create your slider easily without the need for coding skills
Real-time preview: Check your slider animation in real-time
Master Slider gets equipped with a cutting-edge visual editor that was built for everyone
Including our visual transition editor, easily create a new transition and save others
Touch swipe navigation
Button Editor
It has Animated layers allows creating creative slides
Perfectly implemented a parallax effect.
6. Slider by WD- WP Slider Plugin

Is it tough to create the slider you have in mind? Use Slider by WD premium WordPress plugin. With this plugin, you can create a responsive and SEO-optimized slider. It supports swipe control for a touchscreen device.
You can add a slider anywhere on the web page and you can create a multipurpose slider for your website.
Features:
Drag & Drop option help to manage slides and layers
You can easily upload youtube and Vimeo videos into your website slide
Responsive and mobile-friendly
You can create multiple types of sliders just like slider, content slider, carousel
Add Text, images, video, media all are customizable layers
Display all post type
So many effects are available
7. Soliloquy – WP Slider Plugin
Soliloquy, the best WordPress responsive plugin that originates with great features which make it more lightweight and easy to use for the customer. You can create a creative slider in just a few minutes. Compatible with all WordPress themes, you just need to install it in your dashboard and start creating a slider. Even the process of creation is quite easy with just the drag and drop option. For creating any slider, you need to add images from the media gallery, set up and configure the setting of your slider and then publish them. You can embed the slider anywhere in your post, web page, and header via shortcodes
Features:
Drag and Drop builder: create your slider in a simple way.
Mobile-friendly and responsive WordPress slider plugin perfectly compatible with all devices.
Have an option to use a pre-built template for customization of the slider.
Create your WooCommerce product slider
Create a slider based on your content and post
Create a slider from your PDFs and PPT presentation
Compatible with social media, you can import an Instagram image and can use it in your slider.
It is lightweight and easy to use for customer
You can schedule slides for any specific time interval.
Default setting which speeds up slider creation.
Protect your slider images from downloading just Disable the right-click option.
8. SliderVilla

It is a superb plugin that offers to creates a smooth and pleasing slider for WordPress websites. Due to its easy interface with WordPress, the user can quickly create a slider that is completely responsive and cross-compatible. It helps to create a kind of slider like image slider, post slider, carousel slider, just need to pick an image from the gallery and create your slider, you can customize your slider element according to your preference.
Features:
Easily arrange the slider with the drag and drop option
Fast loading time and better SEO
All sliders and compatible with WooCommerce
Supported Social media API
Responsive slider and work everywhere
9. Slider Ulitmate
Ultimate Slider, developed by an expert team of WordPress and provides Full page header slider which enhances and beautifies web pages more. For WooCommerce, it is a classic slider that gives the multiple Purchase Button for the direct purchasing page, option to add product demo video at the home page. It is a completely responsive and mobile-friendly slider plugin that is easy to set up and customize.
Features:
Lightbox Integration
Numerous Transitions & Effects
Replace WooCommerce Images with Sliders
Add Watermarks
Title Animations
Many Different Arrows to Choose from
Custom Font Icons
Mobile-Specific Options
Advanced Display Options
Email Support
10. Hero Slider – WP Slider Plugin
Hero Plugin, a super WordPress plugin comes with the extensive feature, Anyone can create the slider just with the help of the animation setting of the Drag and Drop of option, No previous experience is required. Totally focussed on browser compatibility and perform brilliantly with any device.
Features:
You can show video content from Vimeo and Youtube.
Drag and Drop Multi-slide Builder
Excellent Animation effect
Dynamic Slide from a blog post
Tremendous performance for all mobile and desktop devices.
You can craft your slide with an animated button
Thoughts on WordPress Slider Plugins
I hope you find these WordPress slider plugins 2022 helpful for your WordPress site. Leave a comment below and let us know what's your favorite one.
Any suggestions? Don't hesitate to contact us.