It's time to make your physical library go online. With the change in scenario, making everything online for business providers is a vital decision for long-run sustainability. One cannot be boastful in having brick-and-mortar stores now. So, why wait? If you have a decent website that needs a well-laid design, then here is a chance to have maximum downloads and subscriptions of your library books. Indeed, with the aid of the best WordPress themes for libraries, you can unturn every stone.
So, let your global readers enjoy seamless browsing of thousands and millions of reading options on your website that now stands mobile friendly and extends the easy accessibility of your store.
Best WordPress Themes for Libraries
Going with the flow acts as your main asset for your business. So, if your library needs to go online with a well-designed website, you need to be the flag-bearer for the idea. Because starting from commerce to trade to education… Everything is witnessing the shine of online media. So, if you are getting a vital opportunity of enabling WordPress library theme free download. You have the solution here.
Varuna
Starting with a multipurpose WordPress theme, you can amend it according to your libraries, book types, genres, much prescribed reading books/novels, newly arrived libraries, online subscriptions, magazines, and much more. Being one of the best WordPress themes for libraries, it is a key tool that helps in converting your marketing efforts into sales that utilize the power of the world with the most popular & open-source CMS WordPress. So what can you divulge here for? You'll get eCommerce themes, social blogging, selling courses online, and a private community.
Features
Edufire WordPress Theme
Being powered by Brndle.com, it extends easy institutional designs featuring LMS, eLearning, online courses, and education. Places like libraries that stand as an eminent part of any educational institutes, now need some revamp of the existing concept with online modernization so that more and more people can connect with your library. By being one of the ultimate themes for library, Edufire provides the most powerful and flexible theme which helps to create a beautiful and responsive website for any niche. Through this theme, you can help to sell online, automatically update, create a private community, and get headed with various other eCommerce themes.
Features
ArticleMag
If you are searching for a multi-layout WordPress theme for news, magazines, blogging then your search ends here. Being laden with plenty of options, it will make your online library look amazing and outstanding. Additionally, as it has a minimalistic design on the themes, you cannot go wrong by displaying your books and describing them. Being the best WordPress theme for libraries, it has a free lifetime update, easy customization, coding not required at all.
Features 
Pindairy themes
If you are into blogging, maintaining magazine and news websites, this theme stands as the vital option for your requirement. Being one of the outstanding themes for library, the Pindairy WordPress theme stands as the picture-perfect solution. Being the perfect option for all types of blogs, news, magazines, review-based websites, with unique demos, you'll get every possible assistance in no time. So, what does it have under its hat? It includes options like monetizing your website, building a private community, enhancing the eCommerce marketplace, encouraging social blogging, delivering modern and trendsetting designs, and more.
Features 
LearnMate Lifter LMS
Being driven as a learning management system, LearnMate helps to develop highly customized and engaging online social learning solutions that have rapidly evolved in the educational industry. For the better display of your ebooks and other options for reading, you have got the grid and listing options that will give a clear and clean look to the online library theme. Also, for better viewership, LearnMate LifterLMS offers distraction-free reading. Also, you can aid your reading and viewing opportunities by engaging in course review modules.
Features
StoreMate Dokan
If you are into purely eCommerce things, then you might love the content of Dokan. Here you are able to sell each and every product/service seamlessly with a solution that is WooCommerce compatible. Being laden on the multi-vendor marketplace also helps you to earn commissions with products ranging from physical to digital. So, along with other things, you can also sell ebooks, magazines, novels, and more through this theme.
Features
Library Books
Being one of the WordPress library theme free download solutions, it offers for people who deal with education, author, selling ebooks, PDF's, publishing, online book store, teaching as their mainstream profession. You can also commence with the idea if you have any knowledge base for institutions, training academies, coaching centers, LMS guidance, counseling centers, and more.
Scientia| Public Library & Book Store Education WordPress Theme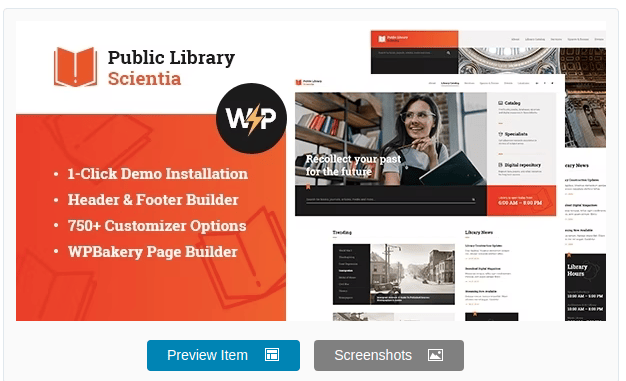 It's a beautiful, fresh and much opted theme when it comes to one of the best WordPress themes for libraries. Scientia projects to deliver modern and functional designs that are specially built for libraries, publishing houses, book stores, and more. It is also said it is compatible with WooCommerce that allows selling your media products like movies, ebooks, video games, online courses, and much more.
Features

Are You 'ELibrary' Ready?
Do you have a market overview? How are your competitors working? Have they opted for an online way to get their reading materials available online? To whom do they have an approach for digital assistance? Have they earned 'word-of-mouth' appreciation by their readers? And so on… there are lots more that can brace your online library concept. With the heck of the best WordPress themes for libraries, you can be well approachable to your readers even if you are unable to get a handful of footfalls into your store.
So, ride the tide with one of the best themes for a library or educational institutes with a readymade solution for building a custom online portal.
Interesting Reads
Do You Stand the Best WordPress Themes for Catering Business?
WordPress Themes for Language Schools will Deck Online Teaching for Longer Run