Making a website on WordPress is simple and we highly recommend it! Using the right kinds of templates, you can create beautiful websites that will attract customers and provide you with much-needed engagement. If you are looking for a WordPress grid theme layout that will beautify your website, you are at the right place! 
Create amazing portfolio grid websites with the following themes: 
1. Super Grid – Fullscreen Grid-Based Portfolio / Blog:
Super Grid is a retina-ready, fully responsive, unique, grid-based, minimal WordPress theme to showcase your work. You can use it as a portfolio or a blog. It is unique and is filled with features that will make your work exceptional. Organize your content into your grid without much hassle. It has the ability to organize your 'gridgets' and aid you in creating an unforgettable, smooth experience for your visitors. In short, this theme is easy to use, clean, fully responsive, and has a variety of customizations. 
To know more about this theme, click here. 
2. Ubergrid – Responsive Grid WordPress Theme: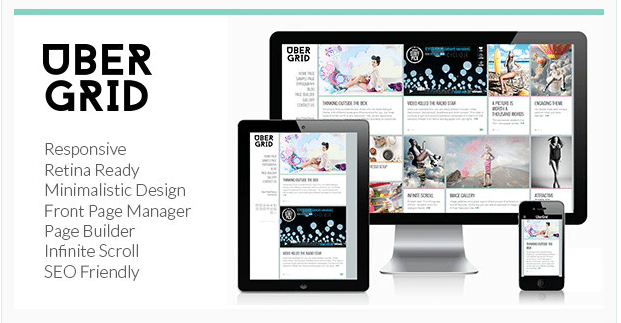 This is a minimalistic WordPress theme suitable for different kinds of businesses. It is grid-based, responsive and retina ready. Moreover, it comes with a theme manager, page builder, front page manager, infinite scroll, and so many more options. You can start with this theme and create a utility-filled website in no time. Also, customer support and design quality are out of this world! You will not go wrong with this one-of-a-kind theme!
Know more about this theme – here. 
3. Zoho – WordPress Grid Portfolio:
Zoho is a simple, subtle golden grid foundation. It is ideal for presenting and showcasing your work. It allows your work to be neatly organized and filtered. It has unlimited color schemes, 16 pattern options, 11-page templates, single-page templates, and has a premium iShare plugin for hassle-free social networking. The design is rock solid, and everything has been created, keeping your requirements in mind! In short, this theme is out of the box, perfect, and the customization is exemplary.
To know more about this extraordinary theme, click here. 
4. SympaGrid – Responsive Grid WordPress Theme: 
This is a modern WordPress theme that is a grid-based, fully responsive, retina-ready, and SEO friendly. SympaGrid is a clean theme that works well with creative, personal, or business use. Further, it also allows you to customize according to your preferences. Choose this theme for its design quality, customer support, and customization. With its clean and modern design and responsiveness, it is bound to work well with your needs. All you have to do is set up a demo content – and you are all set! 
Check out this website – here. 
5. Merapi – Modern Grid Blog Theme: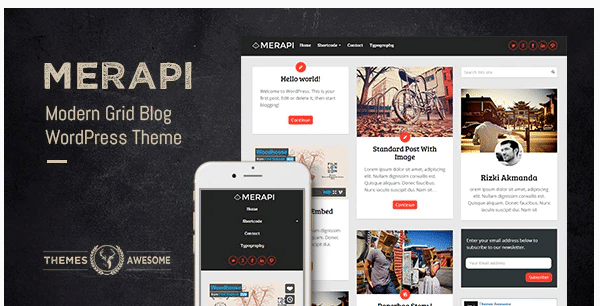 Merapi is yet another responsive theme that is highly optimized for your requirements. Its impressive layout will help your viewers read all of your content in a smooth, efficient manner. Your website is bound to get the much-needed attention with this theme. It is suitable for all kinds of businesses, such as journals, magazines, news websites, and so on. Oh, and you are in luck because the customer support is excellent!
To know more about the theme – here. 
6. Mondrian – A Serious Grid WordPress Theme:

If you want your content to shine with gorgeous post layouts, this theme is the one for you. It makes an excellent choice for magazines and blogs. It helps you garner your users' attention and thereby increase engagement. Along with Visual Composer plugin, you also get 12 widgets that includes testimonials, custom sliders, and so much more. It comes with a number of layouts and features and provides everything you will need! Create a professional-looking website in no time with Mondrain! 
Get this theme – here. 
7. LIVE GRID – Responsive Interactive WordPress Theme: 
With attractive animation, responsive layout, light & dark color picker, full-screen option, and grid galleries, this theme is meant to fulfill all your requirements. It was created as per the latest web technologies. What's more – it includes photo and video grid portfolios, image adaptivity, animated image grid, social share options and so much more. If you are a media agency, a photographer, or if you own hotels, restaurants, and other related businesses, this theme is for you! It appeals to your creative side and curates beautiful websites for you!
To know more about this theme – click here. 
8. Rinjani – A Responsive Grid Blog Theme: 
Rinjani is a grid WordPress blog theme that is ideal for your personal blog. It is designed in an effortlessly timeless style. This theme supports all kinds of post formats. It has a flexible color that lets you customize as per your choice. It is highly optimized for both mobile and desktop platforms. It ensures higher engagement, and your layout will attractively display content. Some other notable features include live customizer, one-click import demo, powerful admin panel, and so on. Lastly, it has a fantastic support system that are always available for all your needs. 
Check out this elegant website – here. 
Well, there you go! Having a theme that lets you showcase your work in a neat yet beautiful way is crucial in recent times when more and more people find visual images appealing. What are you waiting for? Go ahead and use these themes to create alluring websites for your brand! We wish you all the best!
Interesting Reads:
TOP WORDPRESS THEMES FOR ARTISTS 
TOP WAYS TO GROW YOUR EMAIL LIST