Are you a foodie? Do you wish to share your recipes with the world? Well, the best way to showcase your creations before the world is by creating a website. You will be able to display all your recipes and become popular overnight. You can take the help of WordPress to create food blogs. WordPress is an excellent platform for developing a food blogging website. It is not just a blogging platform; it can be considered as a complete content management system. Using WordPress, the task of building and managing a blog becomes extremely easy. Here we have mentioned the steps to create a food blog:
Buy domain and WordPress hosting
The first step towards creating a food blogging website is purchasing a domain name and a WordPress web hosting plan. There are various hosting service providers available. You may choose your plan according to your requirements. Most beginners opt for shared hosting services. Shared hosting services work perfectly well for small and medium-sized websites. However, if you wish to handle a massive website, then it is better to go for a managed web hosting plan because it provides you with a fast loading speed and unlimited bandwidth.
The domain name is also very crucial for making your blogs successful. Choose your domain name in such a way that it is able to convey your brand message to all your viewers. Use something short and simple. The domain name should also be easy to remember.
Install and Setup WordPress
Once you have purchased the domain name and the hosting plan, you will have to set up WordPress. The process of setting up WordPress is quite an easy one. You will have to follow a few simple steps and WordPress will be installed on your device. You can use the one-click installer tool to install WordPress with just a few clicks of the mouse. The entire process can also be done manually.
Install and setup WordPress Food BlogTheme: Pesto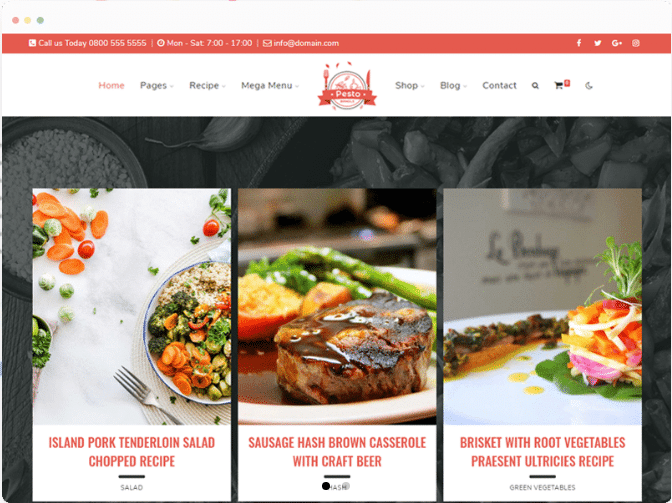 Pesto is a very popular WordPress recipe theme . It is modern and visually captivating and will keep your users engaged to your website for a considerable amount of time. The theme has been specially designed for food bloggers. It provides you with a huge range of useful features.
Multiple blog archives layouts:

Pesto comes with a number of attractive blog layouts. Each of these layouts is highly appealing. 5 engaging blog layouts are included. You will also be provided with numerous custom post types.

Engaging widget options: 

Presto provides you with a huge collection of widgets. You will be able to add these visits anywhere on your WordPress website. Some of these widgets include Recipe Card, Recipe Scratch and Recipe List.

Elementor Page Builder integration:

Pesto is integrated with the Elementor Page Builder plugin. This allows you to drag and drop different elements to your website and create the entire website in very less time.

Gutenberg compatibility:

Pesto is compatible with the Gutenberg plugin. Everything on your website is nothing but blocks. You will be able to customize the blocks as per your choice. Numerous blocks and embeds are available.

WooCommerce integration: Pesto comes with WooCommerce integration. You will be able to set up your own E-Commerce platform and sell your products online.
Multiple headers and mega menu option: You will be provided with 4 different header types using which you will be able to create an image for your brand. The mega menu option is also included. You can select a mega menu according to your needs.
Unlimited customization options:

Pesto provides you with a huge range of customization options. You will be able to customise the different elements of your theme from the unique theme panel. Everything is customizable including the header, footer, sidebar, typography, etc.

SEO-friendly and optimised for speed: 

Pesto is optimised for speed. It is also SEO friendly and ranks well on all popular search engines. This will make sure that your website falls to the eyes of the viewers.

Mobile-friendly design: Pesto is a highly responsive theme. This makes sure that your website loads perfectly on all types of devices. The theme will automatically adjust itself according to the screen size and resolution of the device on which you are running the website. Pesto is also thumb-friendly. It has a fluid design and it is also quite easy to navigate.
One-click demo import tool:

You will be able to install the demo content with just a single click of the mouse. You can also keep only the demo content which you wish to use and swap the remaining ones.

Creative inner page designs:

A number of inner pages will be provided to you. You will also get a huge range of engaging layouts which will give a beautiful and unique look to your website. The design is clean and minimalist and helps to keep your users engaged.
Install and Setup WooCommerce

WooCommerce plugin is the best available plugin for setting up an online store. You will be able to sell all your products easily from your online platform because of the WooCommerce plugin. You will also be able to set up an affiliate store by adding affiliate products and URL to your website. Unlimited product variations are available. You will also be provided with a number of useful options like stock, image and price for each of the products. Pesto is fully compatible with the WooCommerce plugin.
Install and setup other recommended plugins
You will have to install plugins to make your website functional. Thousands of plugins are available each of which fulfils a specific purpose. The plugins recommended by Pesto theme are Cooked, Ultimate Addons for Gutenberg (REQ), Contact Form by WPForms, LoftLoader, Post Types Order, and Regenerate Thumbnails.
Download Here: WordPress Food Blog Theme
Wrapping Up
So, these are the essential steps to create your own food blog. With Pesto installed, you need not have to worry about anything. You just have to create interesting content and you are ready to share your ideas with the world.
Interesting Reads: