All of us love to travel, don't we? If you are a frequent traveler and you wish to share all your experiences with people, then the best way to do so is by writing a travel blog. However, many of us do not know how exactly to start their blog. Don't worry because we are here to help you out. WordPress is a perfect content management system for travel bloggers. It will allow you to create a perfect blog where you will be able to share all your experiences in an amazing way. It is not only easy to set up but will also provide you with a lot of resources to help you out in your journey of writing blogs. You will be able to create your own blog without taking the help of any professional web developer. After that, you will be ready to share your breathtaking experiences and adventures with your audience. Here, we will tell you what exactly you need to do in order to create your own blog.
In order to create your travel blog, you will have to install WordPress on your web server. You can also install it locally. Installing WordPress is a pretty simple task and anyone can do it easily. You will require a WordPress theme which is perfect for creating a travel blog. There are plenty of WordPress themes available which will help you out. Plugins are mainly used to add functionalities to your WordPress website. You can insert a number of travel-related plugins to your website. What makes a travel blog famous is photography. You need to insert plenty of photographs in your blogs to make it eye-catching. So, don't forget to add loads and loads of photographs on your website.
These are Steps that you have to undertake to create a travel blog:
Buy Domain and WordPress Hosting
To start creating your blog, your need to purchase your domain and web hosting. Your domain name should always be catchy and easy to remember as it will represent your brand. So, you must be very careful while choosing your brand name. You would also require a hosting space for your website. There are a lot of companies that provide hosting space to WordPress users.
Install and Setup WordPress
Next, you need to install WordPress. WordPress allows you to create your blogs for free. WordPress can be installed in two different ways: one-click installation and manual installation. Both of these methods are easy and beginner-friendly. Once you are done with the installation process, you need to set up WordPress. This can also be done quite easily.
Install and Setup Required Plugins
In order to create a fully functional blog, we will have to install plugins to your WordPress website. Here, we have listed a few popular plugins that are specially meant for travel blogs:
Tour Master – Tour Booking, Travel WordPress Plugin
Tour Master is a very popular WordPress travel plugin. It is not just the plugin; it is basically a complete tour management system. The plugin has been created for travel agencies, travel ticket sellers, tour packages and many more. Tour Master has a number of useful features. It comes with flexible pricing options. You can also create coupon codes for travelers. The plugin supports a number of popular payment gateways like PayPal, bank transfer or credit card.
Travel Checklist — JavaScript Template (plugin) for Travel websites
Travel Checklist is the perfect plugin for travelers. It is basically a checklist for travelers and guides you in planning a perfect trip. It is highly responsive and is also fully customizable. The plugin is suitable for tour agencies and travel websites. Travel Checklist also has additional SEO features. The plugin works well with all other popular plugins. It also supports a number of payment gateways. A highly interactive customer dashboard is also provided. 
Travel Booking – Travel Booking WooCommerce WordPress Plugin
Travel Booking is a WooCommerce WordPress plugin that helps in tour management. There are separate ticket price types available for children and adults. You will be able to customise the tour prices on the basis of the booking dates. Various customizable search forms with additional fields can be added to your website. Travel Booking also works well with various WooCommerce payment gateways. You will be able to create different types of variations for each of the tours.
Multi Merchant Marketplace Vacation Plugin for WooCommerce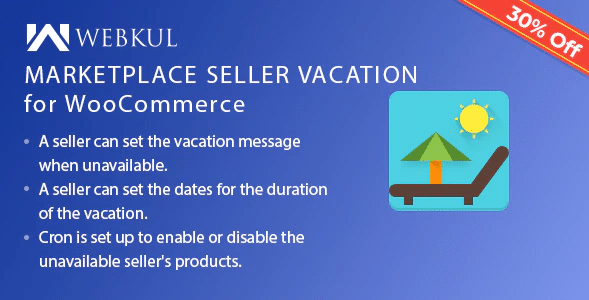 Multi Merchant Marketplace Vacation is a WordPress plugin that is best suited for vacations. The plugin has endless useful features. The sellers will be able to display and unavailability message on the website if he or she is not available. The sellers will also be able to close his online shop for a particular period of time. Multi Merchant Marketplace Vacation comes with the life demo import tool. You will be able to enable or disable the product as per your choice. The plugin has a huge range of setting options using which the features can be customized as per requirement.
Wooster – WooCommerce Travel Tour Booking
WooTour is a WordPress plugin that lets you create travels, tours and appointments easily. You will be able to manage your booking systems with ease. The plugin supports various payment methods. The visitors will be able to create an account on your system and book the services online. There are three different options available to set the price. The email notification feature can also be activated. WooTouralso comes with a review and coupon system.
Get The Plugin
Install & Setup TravelZen theme
If you want your travel blog to become successful, then you need an excellent WordPress travel theme and Travel Zen is the theme for you. It has been specially crafted for travel bloggers,  travel magazines and tourism company. The theme has a highly attractive design and will make your blogs look extremely beautiful. Travel Zen is compatible with the number of powerful plugins like WooCommerce, Elementor and Gutenberg. The theme is also mobile-friendly and easily customisable. it is optimised for speed and retina ready. Travel Zen also has the one-click installer that lets you install the demo content easily. It is also an SEO optimised theme. Multiple blog archive layouts are available.
Click here to get WordPress Travel Theme 
Wrapping Up
Creating a travel blog isn't that difficult after all. All you need to do is follow these few steps and you will be able to create a perfect travel blog for yourself. So get started today and share all your beautiful experiences with the world.
Interesting Reads: