Search Engine Optimisation is extremely important for your online business. It will help you to increase the traffic on your website and take the popularity of your website to an entirely new level. You must make sure that your website is SEO optimised if you want it to become popular. For that, you will have to add an SEO plugin to your website. This will automatically help your website to rank well on popular search engines and also increase its chances of getting noticed. So, here we are with some of the most popular SEO plugins that will help you in changing your online game.
Best WordPress SEO Plugins 2021
Yoast SEO
Yoast SEO is one of the most popular WordPress SEO plugins available to us. It is highly functional and provides you with a wide range of SEO highlights. This plugin will help you to optimize your website on popular search engines.  You will be provided with a number of features. Its keyword research tool is quite useful.
Yoast SEO will also help to improve the performance of your website. You will be able to create a Google XML sitemap using Yoast SEO. However, the plugin is pretty complex and you may have to take the help of a freelance SEO expert in order to run it efficiently.
Top Search Plugins For WordPress
SEMRush
SEMRush is another very popular SEO tool. It is specially made for beginners. However, SEO professionals can also take the help of SEMRush to optimize their website. Some of the most popular features include social media marketing, content promoting pages  website activity, and marketing
SEMRush also provides you with the keyword analysis feature which will allow you to understand the kind of keywords that you must use in your website to increase its chances of being noticed. You will also be able to get an idea of the keywords that your competitor websites are using. This will give you a better idea of their strategies and will help you to improve the rank of your own website.
Try the World's No.1 Marketing Tool Free!
Ahrefs
Ahrefs is another SEO tool that helps to increase the activity on your WordPress website. You will get to know about your competitors and realize how to go ahead of them in SEO rank.
Ahrefs provides you with a number of useful features. It lets you analyze your search engine performance. You will also get to know about keyword research, keyword ranking, and website ranking.
You can also create backlinks for your website. The tool is however quite expensive and has a very complex interface. So, if you are a beginner, then it is not advisable to go for the tool. However, Ahrefs is the perfect SEO tool for professionals.
Google's Keyword Planner

Google's Keyword Planner is another tool that lets your website dominate other websites on all popular start engines. It is an extraordinary tool for anyone who would like to know the correct usage of keywords. The tool is specially designed for advertisers but anyone can do extensive keyword research using Google's Keyword Planner.
The advertisers will be able to incorporate the required keywords in their ads. Using Google's Keyword Research, the entire task of optimizing your WordPress website becomes extremely easy.
Best Free WordPress Cache Plugin
All In One SEO
All In One SEO is a complete tool for SEO Optimisation. It comes with a high level of customization features. You will be able to improve the quality of your content and also give your uses an excellent keyword experience. You will be able to add SEO titles to your website.
All In One SEO has an easy-to-use interface. The plugin also makes it very simple for beginners to optimise their website. You need not require any advanced knowledge of SEO in order to use this tool.  All In One SEO is also very useful in providing complete security to your WordPress website.
SEO Plugin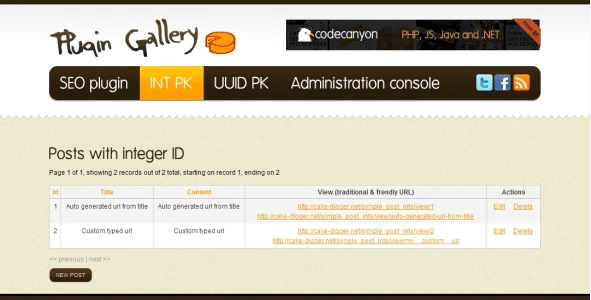 SEO Plugin lets you manage the metadata of your website. The plugin is very useful in improving the rank of your website. It is easy to use and beginner-friendly. You will be able to easily integrate your plugin with all popular WordPress themes. Using this plugin, you can easily improve the performance of your website on popular search engines like Google.
SEO Plugin provides you with all the important details which may come handy in improving the SEO rank of your website. You will be able to gain all the information about a particular keyword using this tool.
Get The Plugin
Best WordPress Directory Plugins and Themes
Off Page SEO plugin
Off Page SEO is an excellent plugin which lets your website get better rankings on popular web browsers. It also allows you to have complete control over the off page SEO activities of your website. You will be able to create backlinks easily. The tool also provides you with a number of essential features.
Off Page SEO comes with the social share counter tool which helps you to find out the number of times your content was shared on various social media platforms. You will also be provided with dedicated customer support to help you out.
Smart SEO – WordPress Plugin
Smart SEO is one such plugin which makes it extremely easy for you to optimise your WordPress website. The plugin comes with a number of essential tools and features. It allows you to focus on multiple keywords at one time. You will get to know about all the important information regarding the keyword. It also provides you with a number of shortcodes.
Smart SEO is compatible with the Visual Composer tool. It is beginner-friendly and let's see you verify the SEO title of your website. You will be able to verify the number of characters allowed in the meta description. Smart SEO also helps to remove fake content from your website and optimize its loading speed.
Get The Plugin
All these above-mentioned tools will help to enhance the performance of your website. Before selecting your plugin, you must know what exactly you expect from your tool and then choose the best plugin that fulfils all your needs. Do let us know which of these SEO tools you are going to use for your website.
Interesting Read:
Top WordPress Auto-blogging Plugins
WordPress Instagram Feed Plugin
5 Steps to Creating a Donation Website for Your Nonprofit Organiztion (NGO)