For running any website, We are generally speaking about WordPress Page Builder and always choose the best WordPress page builder for our landing page design. As we all know that Contact forms or lead capture forms are the essential elements for any Website. So we should choose the best among WordPress form plugins as it helps the user to communicate with the website owner easily without composing an email.
Earlier, the Contact page just has very basic information about the business owner. Often it was only used for creating a database and contact with website owners in the future. Now, the scenario has been changed. The Business owner is, either for their personal website or corporate, using Contact Form Builder Plugin to improve website Visibility and decrease bounce rate.
Contact form for any website works as Bridge between user and owner, they can easily contact the webmaster just via form submission. For attracting users you must have a balanced contact form in terms of Design and Functionalities.
Several contact form builder options are available, but here, we will cover some of the popular Contact Form Builder Plugins.
Let's discuss this in detail
WordPress Form Plugins
Here is a list of plugins to choose from
1. Gravity Form
Gravity Form is one of the powerful plugins among all the Plugin builders, it comes with extensive features and functionality for creating and designing contact forms on WordPress Websites. It has Millions of active installations. Moreover, it becomes the first choice of every user. With this plugin, you can create any complex form in just a few minutes and don't need coding knowledge. Gravity form supports integrating with a lot of third-party apps and add-ons and most of the themes are optimized for this plugin.
Features
Build complex forms quickly and easily via Builder.
30+ Ready to use form Fields.
Secure from Spamming.
Conditional Logic: Configure form as the way you need(Hide or show fields).
Completely responsive design.
Integration with other service app like Paypal, Mailchimp, etc is quite easy.
Email Notification
2. WP Forms
WPForms is also one of the popular WordPress Form Builder plugins. It allows us to create any type of contact form such as a survey form, information form, billing form, or donation form in just a few minutes with the help of the Drag and Drop option. WPforms has a pre-built template that can be easily used by the user for form creation and you can also customize it as per your need.
Features:
Drag & Drop Form Builder
Pre-Built ready use Form Template
WPForms is 100% responsive with all devices
Create an easily conditional logic within a few minutes.
Instant Notification
Entry Management
You can create a Multi-Page form
Integration can be done easily with other service apps like Paypal
Easy to embed and Spam Protection
3. Ninja Forms- WordPress Lead Form Plugin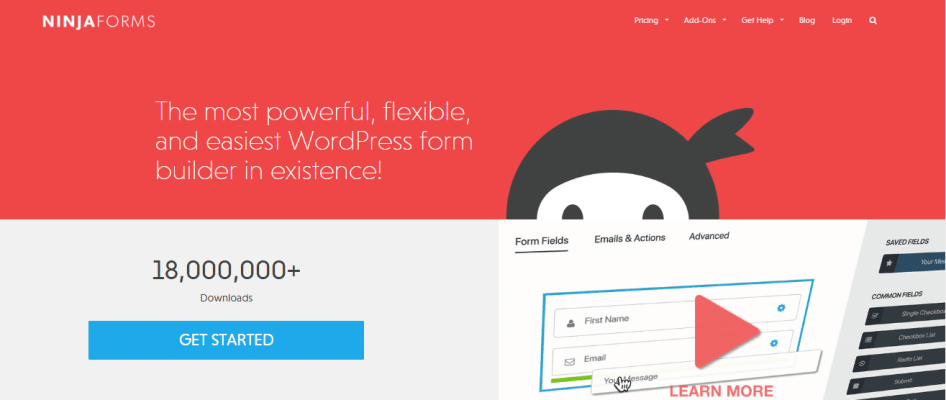 Ninja Form is a popular free WordPress Form Builder Plugin. You can create a form in a minimal time frame via the Drag and Drop option without using any coding. It has a user-friendly interface for form creation on the WordPress website. Ninja form comes with advanced features or addons to make a complex form(Conditional Logic, Multi-Part forms, Front-End Posting, MailChimp, and more).
Features:
Effortless WordPress Integration
Instant Updates
Control Every Element
Translation Ready, for the conversion of any language
Easy To Use & Configure.
4. Everest Forms
Everest Form comes with Strong features and functionality which makes it the most powerful form builder plugin. Creating a form by using this plugin is extremely easy as it has a Drag and Drop option although you can add multiple columns in a form field.
You can create an unlimited stylish form or field with this plugin as well as have an option to use a predefined form template.
Features:
Drag and Drop fields make it extremely easier
Unlimited form creation
Multiple column support
Re-Captcha support, as secure from spammer
100% Mobile responsive form builder
You can use Shortcode anywhere on the website.
Pre-Built Templates are available.
5. Caldera Forms
Caldera Forms is a responsive Drag and Drop form builder.
It has a super easy interface for the user and no need to have coding skills. You can create any complex form with this plugin-free version and if you need any extra feature you can enjoy its premium version.
Features:
Focus on Quality, Flexibility & Extendability
Drag and Drop make it easy to use
Completely responsive form plugin with all devices
Caldera Forms Free and Premium versions are available.
Free includes conditional logic, calculation fields, multi-part forms, file uploads, and column layouts out of the box.
6. Formidable Forms – WordPress Contact Form Plugin
Formidable Forms is the best plugin for creating a complex form and with this plugin, your idea comes true in reality.
You can create a complex form within a minute and it is claimed by the Plugin Developers. With the Drag and Drop option, beginners and professionals both can create a form. You may create a custom form with this plugin or merely use its predefined template.
Features:
WordPress Drag and Drop Form Builder
Display Form Data with Views
User Submitted Posts & Pages
Multi-Page Form with Progress Bar
Create Reports with Graph and Chart Form Data
Powerful Calculated Fields
Save and Continue Partial Submissions
7. FormCraft
FormCraft WordPress Form builder also comes with Drag and Drop option along with a super-easy interface for the fresher as well as professional. There are several templates available for creating a form within seconds. Apart from these features, you can display forms as popup boxes or slide-in forms.
Features:
Drag and Drop Builder
You can embed popup, slide-in form
Conditional Logic: show and hide option
100% Mobile responsive
Have an option to create a Multipage form
Available with Awesome Template
8. Quform
Quform WordPress Form Builder plugin offers to create quickly and easily multiple forms as it one of the best Ajax-based form builders. You can create any complex form with this plugin just by using the Drag and Drop option and without touching any coding.
Features:
Invisible reCAPTCHA
Create a form without knowing any HTML or PHP!
Responsive forms
Drag and drop form elements
Fully translatable
Easy to use user interface
Dynamically set form values from the URL
Conditional logic on notifications
Unlimited emails can be sent from a single submission
6 optional filters to strip unwanted submitted data
And, many more.
9. NEX-Forms – WordPress Contact Form Plugin
NEX- Forms is the easiest and quick form creation plugin by using Drag and Drop.
It allows a full range of customizability, flexibility, and usability that will help to create an online form within a minutes.
Features:
30+Form Field and Element
100% Responsive Form Builder Plugin
The drag and Drop option make it easy to use
No coding knowledge is needed to use
Email Notification
1500+Icons and 1200+Fonts
Complete actions on fields, like hiding and show,
Secure from Spamming
Final Thoughts on WordPress Form Plugins
In this article, We have discussed the best WordPress form builder plugin for your website. For sure, you can use one of these plugins on your website for form creation. We hope that you got this article helpful and valuable.

Interesting Reads
Trending WordPress Slider Plugins  
10 Best WordPress Translation Plugins  
Thinking to Mint? Choose Safest and the Best NFT WordPress Plugins