Are your customers happy with their purchases from your store? Are they getting confused about what they are purchasing from your store? Never mind, if it is happening as now you have got the one-stop solution. WordPress product recommendation quiz plugin will draw out every confusion and misconception about your customer's purchase (from your store). It all up through interesting modes of quizzes that will help you to get over your abundant cart nightmare. Yes, you read this right.
So, what more you can expect? With the encouragement of a product recommendation quiz for WooCommerce. You can able to hold on to your audience base. Indeed, when it comes to retaining audience base and harnessing it for future perspex. Many businesses have seen both high and low just to capture potential leads. This gets further followed up through segmentation on the basis of responses and follow-up with the targeted campaign.
Further, you are bound to achieve enormous sales, and thereby reduce support costs which are handled by the WordPress product recommendation quiz plugin.
So, let the plugin work for you and be an 'affiliate of your store'. While you sit back and earn better outcomes in terms of sales, audience, and name in the market.
Best Product Recommendation Quiz Plugin for Store in 2022
Product Recommendation Quiz for eCommerce
Does your audience have their personal assistance at your store? Do they find their much desired and wished product easily and without any jam-pack? No wonders. Now you have got a Product Recommendation Quiz for the eCommerce plugin which can guide your customers from choosing their products to heading towards adding to the cart and getting them to purchase. Everything goes through a streamlined process.
What does it includes:
Recover abandoned cart: Quiz results in sending email and sending notifications across that will remind the buyer about the incomplete cart that is waiting to et purchased.
Boost sales feature to extend a helping hand towards your buyers who need recommendations on what to buy and whatnot.
Eject support costs will amplify your overall revenue which must have chucked out a larger portion from your estimated investment in the process. Through this plugin, it lowers the cost of amplifying the support system.
Encourage audience base will get harnessed through the active push of email to you which will acknowledge you regarding the type of audience base you have. And, on what more you need to work upon.
 Interact
Being counted among the WordPress product recommendation quiz plugins, through Interact you will get level-up marketing that envelops personalized conversions. Additionally, it also includes a conversion-focused template, robust template, and ongoing educational opportunities.
What does it includes:
Incorporates conversion focused-template. Well, this works great when you have email marketing on hand and you need to generate a number of leads through it.
Flip website visitors into email subscribers. Well, you do not need to be a coder or a technical guy who wants to embed the quiz anywhere on your website. Being the product recommendation quiz for WooCommerce. Here you just need to experience crazy conversion results from a 'Take the Quiz', call to action, front, and center on the website.
Helps to segment your subscribers. Through this, you'll get an upper hand to segment your subscribers on the basis of quiz results. Followed by you can tag your leads based on the results of our quiz.
Advisor Quiz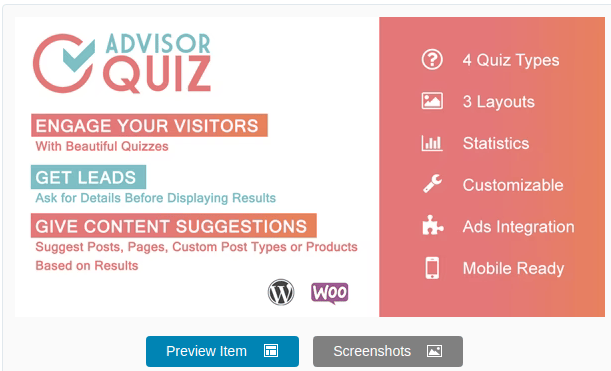 It's a premium plugin that awards developers with good results. This includes content or product suggestions based on the user's answer. Additionally, being a product recommendation quiz for WooCommerce, the plugin is compatible with WooCommerce, Easy digital downloads, and custom posts types. Here, you won't have to worry about the quizzes and their recommendations. The plugin takes the complete charge of being a normal quiz builder.
What does it includes:
Work on every theme Shortcode based
Initiates three layouts: presentation, image grid, and minimal
Attach content suggestions to results, this includes WooCommerce products, easy digital downloads, posts and pages, custom posts types.
Best Quiz Plugin for WordPress

When it comes to quizzes, everything works great and incurs interest among the user. With the aid of this WordPress product recommendation quiz plugin, here you can build quizzes ver easily and thus enjoy the end results as engaging, and thus get shared immensely. Here, you can create an unlimited number of quizzes that stand responsive and mobile-friendly.
What does it includes:
Add an unlimited number of quizzes
Use any time of WordPress themes
Easy application of images and videos
Option to restart option
Commence with a social share button
Change font color
Auto-scroll option to next question
Shortcode support
6 animation effect
Facebook Open Graph Support
Ultimate Quiz Plugin for WordPress
Ultimate quiz plugin which is a power-pack plugin powered for WordPress. As this is able to create unlimited quizzes with unlimited questions, it is supported by 9-types of questions that are headed by MCQs, fill in blanks, short/long answer questions, upload documents, and more. Here you customers can view their submitted quizzes and results.
What does it includes:
Create unlimited quizzes with unlimited quizzes.
Support 9 types of questions like MCQs, short answers, fill in the blanks, long answers, upload any documents.
Enable quiz start and end date after and before the quiz will not attain.
Show limited questions per page and navigate to/from next/previous pages.
Enable and disable product page descriptions.
Guest users can also take quizzes by entering just their name and email id.
Wrapping Up!
So, all in all. It is not just recommended that you have seen in the funnel process of upsell or cross that takes place through notifying the customer. It is a well-researched process that understands your audience and recommends your store's product or services according to their needs and desires. Herewith the aid of the WordPress product recommendation quiz plugin, you can get multiple options. This includes fully customizable quiz design, sharing quiz results through email, conditional logic in the questionnaire, envelopes Google Analytics Integrations, downloading potential leads through CSV files, Multiple questions type (picture choice, dropdown, email, text inputs, and more).
So, where are you inviting your own affiliate which will never ask for any commission?
The clock is ticking. Make the best use of festive offers today!
Interesting Read
Is Your Website Christmas Ready? Welcome Top 10 Xmas Greeting Plugins